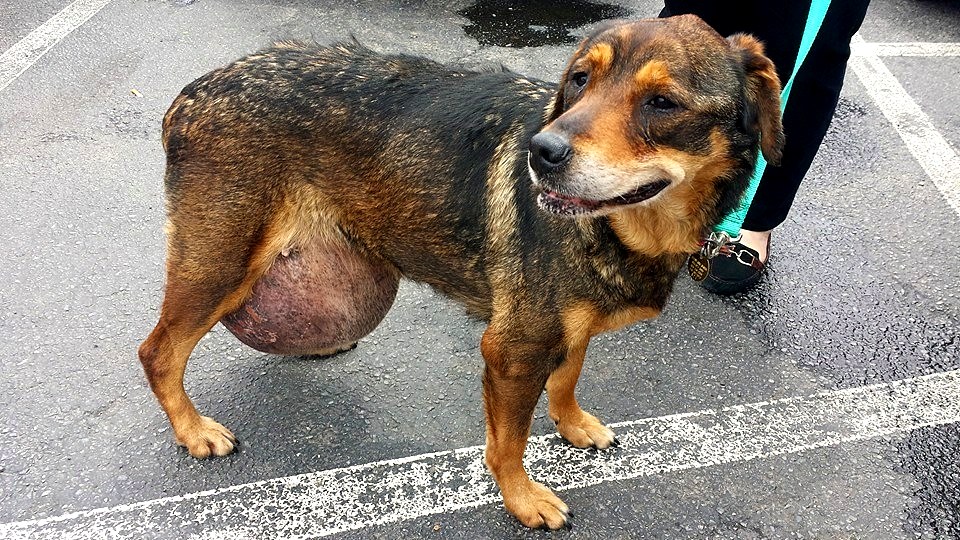 Remember Ricky (Charlie), the dog who spent 10 years living in a New York City park?  Well, the group who rescued him has rescued another senior dog – this time an 11- to 12-year-old female who had a massive tumor on her abdomen.  The growth has been removed, and she is now recovering, but her battle isn't over yet.
This comes from Dominga's fundraiser page (It is Dominga, and not Domingo):
Our group just rescued another dog that lived on the streets of Upper Manhattan for 11 or 12 years. Her name is Domingo.
She is in desperate need of surgery for a huge tumor the size of a soccer ball on one of her legs.
The same group of people who recently saved another feral dog, Ricky, found out about Domingo about a month ago, and started looking for ways to capture her.
A school teacher from the Bronx was driving by the area, noticed the stray dog, and immediately reached out to a number of rescue groups for help. Only one person agreed to help. It was Linda. Linda, a long-time animal lover and rescuer, mother of two adorable girls, found time in her busy schedule to come and try to catch the dog from Long Island to the Bronx several times a day for weeks. She managed to put a leash on Domingo yesterday.
Now Domingo is in the care of vets and needs to undergo a very complicated surgery for removal of the tumor.
All the funds collected by this page will go directly to the rescue group.
The Rescue group website is:
The group has a Paypal account as well published on the web page.
Many thanks to all for your kindness and care!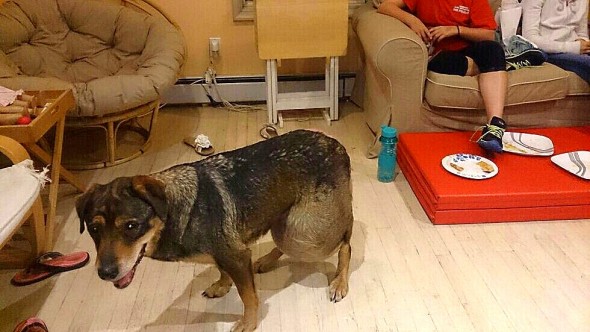 There have been many updates:
Today, a visit of Yelena and Yuliya… Linda brought Domingo to Animal Hospital to get blood test results, measure weight and discuss further treatment/operation plans. Domingo is such a sweet girl, was surprisingly very greedy for food that Yelena brought and protected it from all passing by dogs… Her tumor is so huge, hard and heavy….
Domingo is staying at Linda's place with the family's other dogs. She has been doing very well at Linda's place with all of her dogs and cats.  Domingo is eating well, she is not panting, calm and rested. The surgery is tomorrow.
Dominga had a surgery. The condition wasn't stable, but is getting better. We will be updating you further later.
Dominga woke up, but was in pain, vet decided to sedate her. Linda again transferred her to an emergency vet for overnight.
Linda transported Dominga back to her vet from emergency room. Dominga was again asleep from strong pain medication given at 6 AM at emergency vet. Doctor is trying non-narcotic pain medication to keep her awake.
Over the next few days…
Dominga is still not awake, she was under observation at Linda's place at night, in the morning Linda brought her back to her vet. They did the blood work and it came out fine, a little anemic, but not alarming. Doctor thinks that she is not awake due to medication that is still in the system. Linda will take Dominga back home again tonight. Thank you for your support and caring.
Linda is keeping everything under control, the doctor who is observing Dominga is very experienced and Linda has been dealing with him for 25 years. UPDATE: Biopsy came back liposarcoma. Cancer but doesn't metasize. Probably will come back though. No change from this am, still not awake.
Hi everyone, I am reporting to you from a Babylon Eastern Long Island vet where Dominga is right now. I have seen it all with my own eyes. She is not conscious and vet thinks it's some kind of brain damage that could happen if blood cloth went into brain during the surgery. Surgery went with no complications and she crashed only when the surgery was over and they were clraning her up and she was still incubated. It happened and the help was given immediately, so it was for a minute or two. The plan today was to put a feeding tube in and start giving her real food as she pees and poops. While me and my mother and Linda were inside the vet with her, Dominga was under medication for seizures as every 4 to 5 hours she starts moving her paws and screams and cries. She was calm and reacted with stretching and winking every time any of us petted her, so we all were very encouraged by this. But then we witnessed the seizures or whatever it is and that looked heart breaking. Felt bad not only for Dominga, but for Linda who layed on the floor and hugged her to keep her away from corners and walls and so that she doesn't harm herself. Three of us tried to hold her body and it lasted a long time. Some suggest to do an MRI to see whether the brain was damaged and where, will see if we will be able to do it. Plus some suggest acupuncture.
Yesterday was very emotional, all of cried the whole day as we felt very sad that all our very good intentions so far didn't give 100 % result and Dominga is not yet back to normal. We stayed in the clinic until Dr. Lopez and Dr. Angelo have put a feeding tube. So the plan of the doctors was to start feeding Dominga or Dominique as some called her in the clinic and give her medication for seizures (phenobarbital). Next step is to see neurologist and to start acupuncture sessions. We had to call few pharmacies in the area to find phenobarbital that we needed and we found only one. Also we bought the milk in cans for puppies and that's what Dominga will bw eating for now. Linda fed her yesterday and today as was instructed by the vet and Dominga was doing fine with food and meds. Seizures came back for a much shorter time of 30 seconds which is an improvement. 
Linda made an appointment with a neurologist today. The doctor examined Dominga and said we should give her time. She said whatever doctors have been doing so far was a correct way forward.
1. She said that we should continue nursing her the way we started.
2. We should do an MRI to access the damage of the brain.
4. Before doing an MRI, we should do an ultrasound and a chest X ray to see whether she has any other underlying health issues.
5. In that case MRI won't be needed.
6. The cause of her condition could be a major stroke or reaction to anesthesia. 
7. If it's a major stroke, there is not much to do. The doctors is leaning towards the reaction to anesthesia cause.
8. There is no real fixing to the problem, just to give time and continue nursing and see if the body will fix it on its own.
9. She doesn't think Dominga has seizures, she said it looks like epistatic episode and in that case phenobarbital won't do anything. 
So this is what we have so far and it makes us all a little more positive and we tend to hope that Dominga gets better as Neurologist had few similar experiences with her other patients. 
Dominga has fewer seizures episodes during the day, however much more intense episodes during the night. Linda consulted both with neurologist and Dr. Lopez and they recommended to stop phenobarbital and keep her on Keppra. Dominga is still not awake, everything is the same with no changes so far.
Because of the continued care, Dominga's medical bills are skyrocketing. If you would like to donate, please click here.  For updates on Ricky and Dominga, check out their Facebook page.
…..