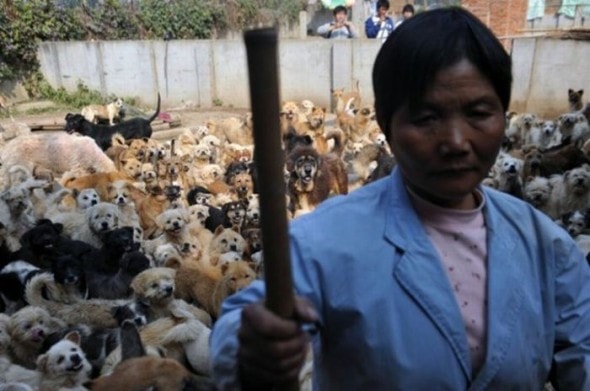 A woman from China decided to adopt 100 dogs during the Chinese Dog Meat Festival in an effort to save them from being eaten.  Animal advocate Yang Xiaoyun crossed over 1,000 miles away from her home just to do it.  She wants to call attention that not all Chinese people are in favor of the act, and they want it to stop.
She spent a reported $1,100 United States Dollars to obtain them, all to keep them off of someone's plate.  She plans on bringing the dogs back to her hometown of Tianjin, and plans to care for them all at the sanctuary she runs.
Yang started out Tianjin Stray Animal Rescue Shelter in 1995.  Her husband passed away, and found that caring from animals was an excellent way to fill the void in her life.  She retired from her teaching job, and now has somewhere around 1,500 dogs, and 200 cats!  Yes, you are reading that right; 1,500 dogs and 200 cats!
Recently, the public has been more and more against the Yulin Dog Meat Festival.  Not just outside of China, but not Chinese citizens are starting to take a stand against the practice.  With the proliferation of social media throughout the world now, more people from outside of the province are coming in to protest.  With help from animal activist, animal rights groups and celebrities, it may come to pass that the Dog Meat Festival finally comes to an end.