An elderly woman from northwest Miami-Dade was hospitalized on Jan. 16, 2014, and in her absence, her 16 pets were left alone back home. The pet owner had asked neighbors to look after her pets, but the neighbors called animal services when the hospitalized woman stopped contacting neighbors to check on the welfare of her pets.
According to CBS 4 News the senior citizen lived alone on the corner of N.W. 35th Ave. and N.W. 35th St. The pet owner was taken to Hialeah Hospital and then moved into an Assisted Living facility.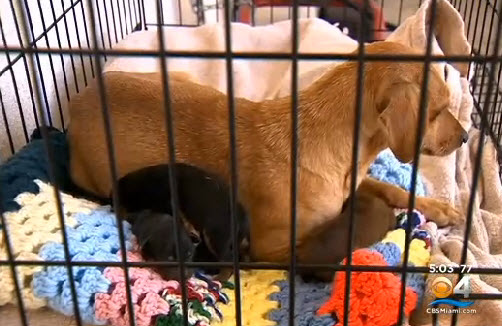 For two week, 13 dogs and 3 puppies fended for themselves. Neighbors left food and water for the animals, but they couldn't properly care for all pets. Animal Services was called when concerned neighbors believed the animals had been abandoned by the elderly owner.
"When investigators went out to the scene they observed numerous dogs on the property and dogs inside the house," Luis Salgado, chief of shelter services for Miami-Dade Animal Services told CBS 4 News.
On Jan. 28, 2014, all 16 dogs were rescued by animal services. Neighbors told rescuers the elderly woman had promised to send someone with money to buy food for her pets, but no one ever showed up.
"These dogs were causing a lot of problems for the community," said neighbor Andres Arango.
Salgado is working with social services to have the woman surrender her pets. If so, all animals will be placed for adoption.
It does not appear the elderly woman will be charged with animal cruelty or penalized. Getting hospitalized and moved into assisted living was out of her control.