Adam Dominik was jogging near a bird sanctuary in Chicago when he heard dogs barking, so he ran to check it out. A man and dog were struggling to survive in the icy water of Lake Michigan. Had it not been for this heroic man, both would have perished.
Cross-country skier Lynn Gerhard was already on the scene at the Montrose Harbor phoning police when Dominik arrived.
"He was saying, 'I don't think I can make it, I can't hold on any longer,'" she explained.
Describing where to send help was difficult – it was snowing hard, and rescuers would have about a foot of snow to get through.
"He was fully submerged in the water, just his face was popping out," he said. "I knew I had about two or three minutes before hypothermia set in and he went under, so I had Lynn keep talking to him and keep his spirits up."
He found a yellow, twine rope nearby, and tried to pull the man out from beneath the ice-encrusted retaining wall.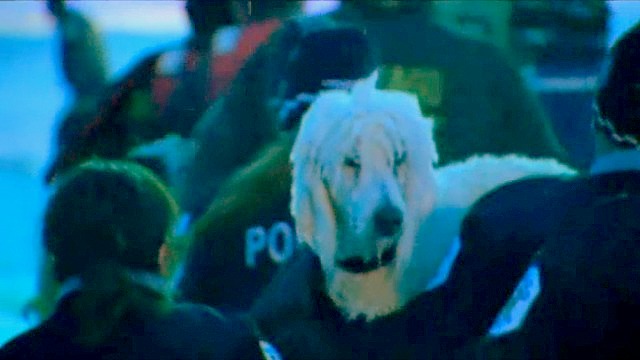 "At first I threw the rope over him but the dog was kind of pulling on him with his weight pushing him under the water," Dominik said. "He kept saying, 'Save the dog first.' I kept saying, 'No, we're going to save your life first and then the dog, your life is more important,' but he insisted on pulling up the dog first."
Dominik struggled, but managed to pull the pair closer to the shoreline. The Chicago Police Department Marine Unit arrived and took over for the exhausted hero.
"He's responsible for a rescue here today," Officer Kevin Kelly said. "He did a great job. He was able to pull that victim close to the shoreline, and that allowed us to get our rescue sling down to him and work as a group to get that person up, and then it was a long trek from that shoreline up to the ambulance here."
The man said he had been walking the three poodles near the shore when one of them ran around the retaining wall and fell in. He was taken to the hospital in serious condition, but all of the dogs are reported to be okay.