The Elephant Sanctuary in Hohenwald, Tenn.,  is holding a ceremony to honor the memory of Bella, a stray dog who became world famous when she befriended an elephant. For eight years, Bella and Tara shared a life on the 2,700-acre sanctuary in southern Tennessee.
Bella will be memorialized today: planned are pet adoptions, a book signing and a presentation about the friendly dog and her best friend.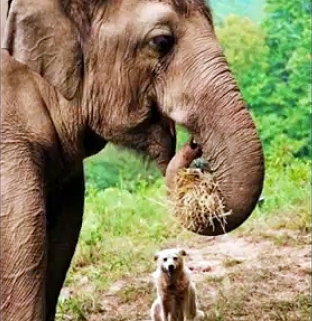 A remarkable odd couple that made for one of the most famous and admired animal friendships in the world, Tarra and Bella were featured in countless videos, on numerous television shows, and even appeared in a children's book.
The dog and the 8,700 pound former performing elephant spent their days together at the 2,200-acre sanctuary in Hohenwald, TN. A co-founder of the sanctuary said that knowing Tarra and her love of Bella, it was likely the elephant would spend some time mourning the loss of her companion.
A statement released by The Elephant Sanctuary said that Bella was found earlier in October suffering from injuries that appear to have been caused by a coyote. Rob Atkinson said Bella was found near Tarra's barn: sanctuary employees believe Bella was attacked elsewhere, and that the heartbroken elephant carried her home.
"It was only later when we had pieced together the whole picture that Tarra's behavior at Bella's grave made sense. Our poor, brave, loving Girl knew what had happened to her beloved Bella and, in the dark hours of the night as she carried her body home, had come to terms with her death."
"Tarra's sisters will help her through her sadness. Although we cannot take away Tarra's pain immediately or the pain of all those that knew Bella, I do know Bella knew true love and true freedom. It will always be so for animals that find Sanctuary."
Founded in 1995, The Elephant Sanctuary is the largest natural habitat for Asian and African elephants in the US.