A US Airways flight had to make an emergency landing because a service dog on board kept pooping in the plane's aisle.  People had apparently never dealt with such a terrible situation before, and rather than hold their noses and spray air freshener, the pilot was forced to make an unscheduled landing.
The Philly-bound flight had already been delayed two hours in Los Angeles, so passengers were already feeling edgy.  About an hour into the flight, some noticed a noxious odor.
"About an hour into the flight, I started smelling this terrible smell," said passenger Steve McCall.  "I look up the aisle way and there's a dog pooping right in the middle of the aisle.  It's a big dog, three or four feet tall or long, and he was just going!"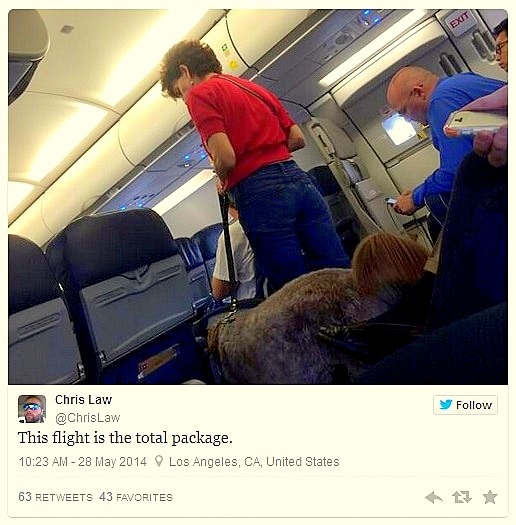 The unlucky crew cleaned up the mess, but an hour later, the cabin still smelled bad and the dog had to go again.
"A couple of people started dry-heaving, a couple of people were throwing up," McCall said.
"Can't make this up," another passenger tweeted.  "The dog has now s—t twice."
The crew ran out of paper towels, so the pilot diverted to Kansas City to have ground crews clean up and allow the dog a proper bathroom break.
The dog's mortified owner tried to make amends with the passengers.
"She said, 'Hey, so sorry, I want to get all your addresses so I can give you a Starbucks gift card,'" McCall said.  "That was the most unique flight experience I've ever had!"
Seriously though…. there wasn't one person with a baby on board that could lend the crew a diaper to scoop up the mess?  No tp in the bathrooms?