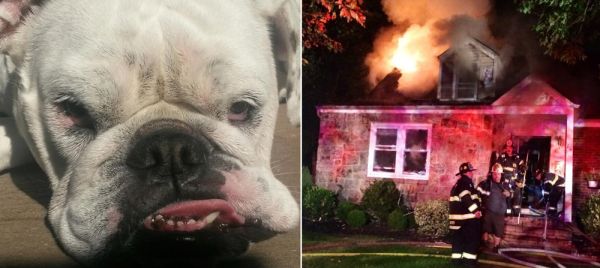 Kevin, Susan and Michael Herlihy are all alive and well today, thanks to some quick thinking by Roxanne their English bulldog.  As a fire broke out in their home while they slept, Roxanne was awakened by it and managed to bark her warning out, waking everyone up and managing to get everyone, including herself out safely.
The fire was believed to have started in an office on the first floor of the family home.  Roxanne began barking around 1:30am Monday as the fire began.  Kevin Herlihy, the 24-year-old son of Susan and Michael, had been in bed with Roxanne when the whole thing started.
When Kevin awoke to Roxanne barking her little head off, he noticed the blaze was really beginning to pick up speed.  He knew time was short, and thanks to Roxanne, was able to get everyone out safely.  No one was injured in the fire.
The blaze grew so big, it took almost 50 firefighters and seven fire trucks to get things under control.  The fire crews and first responders battled the blaze for 90 minutes, and were able to keep any other properties and families out of harm's way.  Way to go Roxanne!