On July 23, 2014, an abandoned and malnourished three-year-old American Bulldog mix was found in great need, roaming the streets of Southwest Miami-Dade, Fla. The dog has been named Nikkos and suffers from Masticatory Myositis, an autoimmune disorder in which the tissues of the jaw become so inflamed, that the dog cannot open his mouth to eat or drink. Nikkos was slowly starving to death.
When found, he weighed 44 lbs. when his normal weight should be 65 lbs.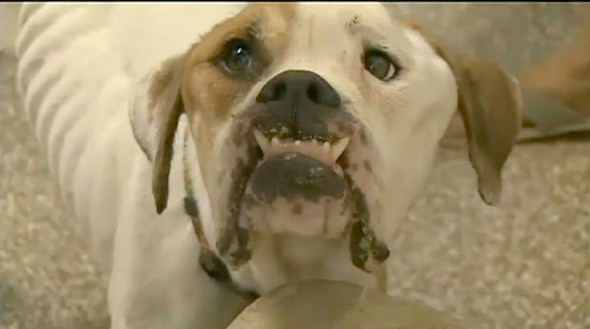 Nikkos is being cared for by Abandoned Pet Rescue, and volunteers hope the canine makes a full recovery. For now he is getting fluids through an IV and soft food is administered through the help of a syringe.
"When you don't feed the body right, the body starts shutting down, the nerves start shutting down, and everything starts cramping," veterinary technician Marina Rittel-Friedrich told 7 News.
The gentle dog knows he is on the mend now and that everyone around him wants to help him get better. Nikkos's tail never stops wagging and he enjoys being kissed and hugged.
7 News aired the emaciated dog's story and since then donations have not stopped coming in,they even received $900 from an anonymous donor.
The community hopes Nikkos's abusers are caught, but even though there is an open police investigation, there are no leads in this case yet.
Jane Ziemba of Abandoned Pet Rescue hopes Nikkos recovers, becomes a very healthy, and finds a loving forever home.
For more information on how you can help Nikos, visit www.abandonedpetrescue.org.