………………………………………………………………………………………………………………………………………………………
Everyone loves the holidays, but making sure that our pets enjoy the holidays, too, can be an important part of the mix. Whether it's holiday parties, decorations, or trying to find just the right gift for your pooch, there can be a lot to take into account. Life With Dogs took some time to check in with Aly DelaCoeur to get her insight about the best ways to make sure everyone, including your pets, have a great holiday season. Known for her excellent programs where she trains humans in how to understand and work with their dogs, she has a positive approach that makes for a healthy lifestyle for people and pets alike.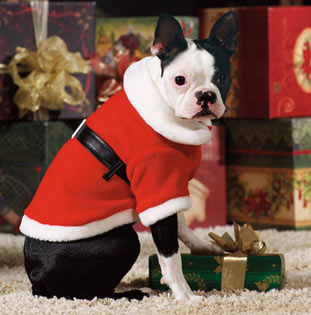 LIFE WITH DOGS:     What do you think are the keys to having happy and safe holidays with your pet?
ALY DELACOEUR:  The key to having a fun and safe holiday season is to realize that your dog might not enjoy what you enjoy. Getting dressed up for holiday photos? Make sure your dog enjoys their outfit by practicing beforehand with lots of treats and love. Planning to have guests over constantly? Practice a "wait" command with your dog so Fido doesn't run out open doors or jump on your guests. You can't expect your dog to know what you want from them the day of, it's necessary to prep them in advance.
LWD:      With so many parties and gatherings happening, how it is best to include, or perhaps preclude, pets in the mix?
AD:         One of the most important parts about having guests over to your house for a party is to make sure your dog can go to a safe place if he/she wants to. It can be really overwhelming for your dog, so have a room or his crate ready with toys, chews or bones. Don't force your dog into a crate or a safe room, you want him to enjoy it or he will become destructive. This is why it's better to practice before hand. Additionally, make sure your guests know about any rules that you have – perhaps in regards to feeding your dog or allowing them on furniture. It is important to set them and your dog up for success.
LWD:      What should people be aware of regarding holiday decorations and keeping safety in mind?
AD:         Dogs can't reach out and touch objects, they feel things with their mouth and their sense of smell. Having strong scented candles or potpourri can be harsh to Fido's sensitive nose. Perhaps try introduce those smells in small amounts. Keep special or breakable ornaments and decorations higher up and out of reach of your dog, because he might want to play with or chew on them. It might be as innocent as his tail wagging into and knocking them over. If this happens, be sure to clean up right away as he might try to eat broken pieces.
LWD:      Any thoughts as to holiday treats or snacks?
AD:         Most human foods are perfectly fine for your dog in moderation. Some, however, can be very lethal. Check with your vet or do some research about what foods are and are not okay. Don't feed your pup off the table or your plate unless you are okay with your dog begging for food for the rest of his life, since dogs cannot differentiate what times are "special events." Instead, put it in his bowl or ask him to do a trick or command first. There are many fun recipes for dog treats for the holidays that you can find. Just keep in mind any allergies or foods that might make your dog's stomach upset. When buying treats from the store for your dog, check the ingredients. Many treats have a lot of sugar, artificial ingredients and chemicals (as part of the processing). Look for treats made from real meat and freshly sourced ingredients. The product may be made in US, but it's important to check out where the ingredients come from.
LWD:      Are there any ready-made or DIY products/projects that you might suggest for a pet to find under the tree?
AD:         Because dogs use their sense of smell above all other others, I think it's fun to hide something they can smell and find under the tree. For example, homemade dog cookies, something yummy in their dog bowl or some new chew bones. This way your dog can go look for them and grab them. Anything under the tree is considered fair game for your dog, so I wouldn't recommend leaving presents or stuffed human toys under the tree if you think your dog will tear them up, especially a young dog!
LWD:      Do you have any advice for someone who may be considering giving someone a pet this holiday season as a gift?
AD:         A dog is a huge responsibility! I strongly suggest that instead of getting the dog for Christmas perhaps give a suggestion of it. After the holidays have settled down and everything is back to normal, then go look for the dog. Make sure your kids are really ready for the responsibility of dog ownership but at the same time be fully aware that they are not ready. You will have to take over the responsibilities since kids change their mind all the time, they simply lose interest or eventually move away to college. At one point or another, you will take over the new pet. If you are not ready for this, volunteering at a shelter or fostering a dog might be a better first step. This way all the family members can get an idea of what it really takes to care for a dog before making the commitment to get one.
To read more of Aly's great advice or learn about her programs, visit her WhyDoesMyDog.com.