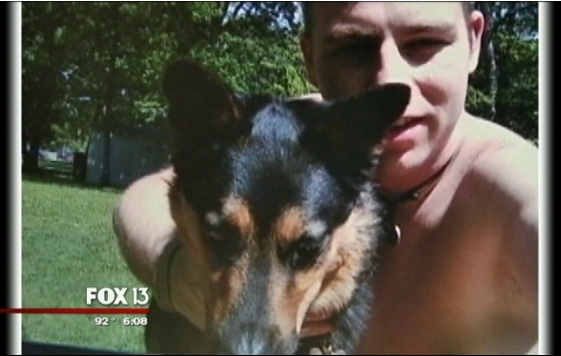 A grieving family has had a bittersweet reunion with their deceased son's dog, and though it will never erase the pain of losing their son, having his dog back at least brings a bit of closure and helps keep his spirit alive.
Because of a pair of observant joggers, a dog named Eddie has been given back to his family. They saw a dog that resembled the one from a flier, and called his name. He came limping over to him, and they called his family.
Dan Selzar, Eddie's owner, was in a car crash in Florida – Eddie was in the back seat when it happened. Deputies fought to save Dan's life, but he succumbed to his injuries. They noticed Eddie was still in the back. He had a scrape on his nose, and the deputies reached to pull him out. But Eddie took off into nearby Limona Park, and couldn't be found.
Dan's mother, Shirlee Gorka, was due to arrive in Florida from Ohio on Tuesday for the funeral, but was desperate to find Eddie and flew in a day early. She searched and posted fliers with his photo, and was overjoyed when the call came in that he had been found.
Dan and Eddie had been inseparable since the day he was rescued from a shelter in Ohio. Dan is never coming back, but for Shirlee, having his dog will help keep his spirit alive.
"I can't bring my son back so it's a little part of my son to remind us every day that he's still with us," Shirlee said.
Her heart breaks for the loss of her son, and was crushed knowing that Eddie was out there somewhere, confused and alone. She couldn't lose him, too.
"He is a big part of our heart, big part of our life, now more than ever," she said. "Eddie will make us laugh when we are down, just like he did with Danny. He was always, always there to pick him up."
FOX 13 News