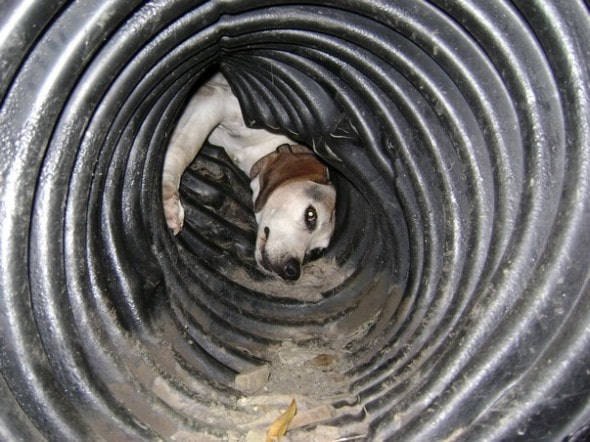 On Tuesday morning Diane Albracht let her 4-year-old Treeing Walker Coonhound Veronica out in the yard of her California home. Diane went about her morning, busy getting the house ready for a family reunion this weekend. At 9:30 am her granddaughter arrived for a playdate. It was then when Albrecht discovered that her gate was open and Veronica was missing.
Albracht spent all of Tuesday searching for Veronica. She drove through the neighborhood, alerted neighbors that Veronica was missing and hiked the wooded area with a friend. On Tuesday afternoon she heard barking, but couldn't locate where it was coming from. Albracht and her husband, David, continued to hear occasional distant barking through Wednesday morning. Due to the contours of the valley that they live in it was impossible for them to figure out which direction the barking was coming from, as the barks would bounce and echo from all different directions.
Finally, on Wednesday Afternoon Albracht was able to pinpoint the barking to near the creek behind their house. As her husband waded through the thigh-high water he finally located Veronica trapped in a pipe. Veronica had managed to get trapped where the pipe turns, it was partially collapsed. The Albrachts called Graton firefighters for help.
The firefighters had to remove not only a large portion of the pipe, but several hundred pounds worth of boulders and dirt in order to reach where Veronica was. The firefighters used hand tools to prevent scaring or injurying Veronica. Chief Firefighter Bullard noted that Veronica was "Perfectly quiet. She didn't make a sound, the whole time we worked around her." The firefighters successfully freed Veronica from the pipe without injury and she was back home Wednesday night.
Veronica is shaken up by the ordeal though. She has been quiet and less active. Albracht is giving Veronica time to rest from her ordeal and stated, "I'm just so happy to have her back."