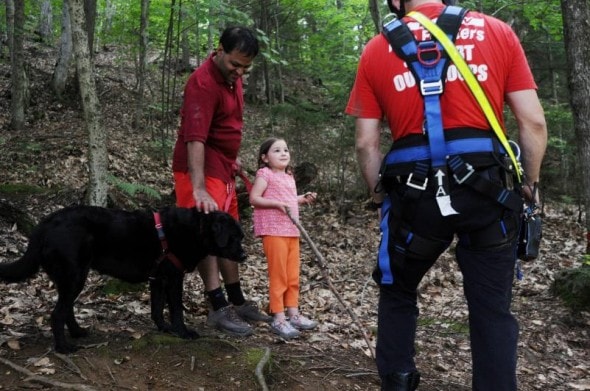 Firefighters in Hartford, Vermont came to the rescue of a black Lab that was stranded on a rock ledge in the Quechee Gorge on Friday.
Around 4 p.m. on Friday a phone call came in saying that someone was stranded in the gorge. Firefighters from Hartford Fire Department's Technical Rescue Team responded on the scene within 10 minutes and spotted a black Lab.
Firefighters walked along the trail towards where the dog was stranded where they found Neel Madan and his 4-year-old daughter Ella, the owners of the dog, named Ranis.
"There was a 5-foot lip that he (Ranis) couldn't make it up over," said Lt. Chris Dube.
Firefighter Keith Morse rappelled down into the gorge to rescue Ranis. When Morse reached Ranis, the dog was very nervous, but Morse calmed the black Labrador down, grabbed him under the belly and pulled him to safety.
Once pulled to safety and reunited with his family Ranis was doing great. He had no injuries and both he and his family were happy that the ordeal was over.