When workers from Aqualia, a water treatment plant in Morón de la Frontera, Spain, spotted a medium size, white and black dog, trapped in one of the water tanks, the first thing they did was called firefighters for help. Thanks to local firefighters and plant employees, the trapped dog is alive today.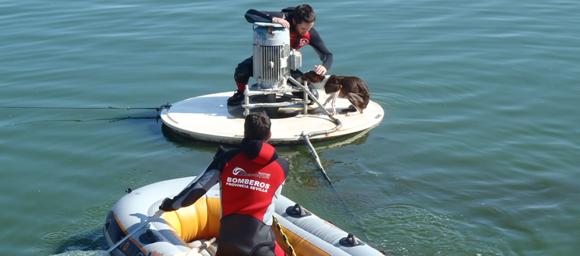 On the morning of September 26, 2014, plant employees realized that a terrified dog was clinging to his life inside one of the facility's water processing tanks. It is not known how the dog ended up falling in the tank, but it somehow swam across it and reached a middle platform where he waited for rescue.
The platform the dog sat on serves as support for the tank's motor. If the dog had not reached safety, he would have died because he could have been swept under the water by the powerful motor
Aqualia employees called firefighters around 9:45 a.m. and the hero rescuers showed up prepared for a water rescue.
Using an inflatable boat, two firefighters entered the water tank and reached the platform where the scared dog was patiently waiting. Rescuers secured the pet, placed him inside the boat and transported him back to safety.