During a house fire in Casco Township, Michigan just outside South Haven, firefighters were able to make it into the burning home to rescue seven puppies before they were harmed.  The family was also evacuated safely, and all are in good health at very least.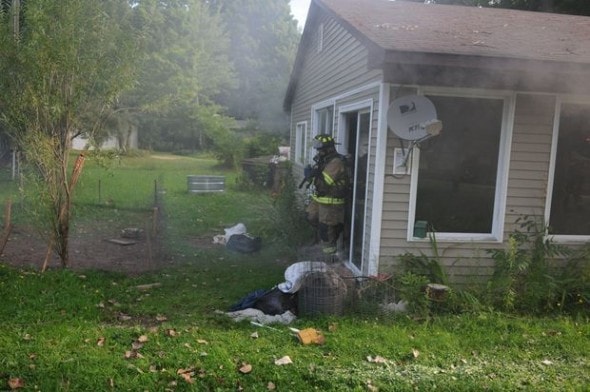 It's believed that it may actually have been one of the pups chewing through a wire that caused the fire to break out.  It seems to investigators that in an enclosed porch of the home was were the blaze first broke out.
The cord that was chewed was attached to a fan on the porch.  It quickly shorted, and the fire began to spread.  The 6-week old American pit bull puppies were being housed in the enclosed porch at the time, which is what is leading Chief of South Haven Area Emergency Services Ron Wise and investigators to the conclusion of the chewed wire.
The homeowners were in the house at the time the fire broke out.  They were also evacuated safely, and the dogs and humans are in good health.
The home did suffer a great deal of fire, smoke and heat damage.  It was brought under control by firefighters, and was mostly contained to the porch and front area of the home, and it may not be a total loss.