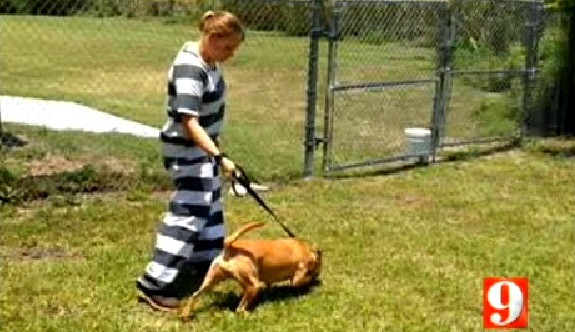 A sheriff in Florida has proposed an initiative for non-violent offenders to be recruited to walk and clean up after shelter dogs, which will both help shelter dogs and give inmates something constructive to do.
"When we first started looking at the merger with animal services we looked at supplanting some of the work force with inmate labor, not only in helping repair the facilities and clean up the kennels and things like that, [but] we knew we could use them to walk the dogs," said Brevard County Sheriff Wayne Ivey.
There is a shortage of volunteers in the county, and the dogs should not be forced to be cooped up all the time.  Some may worry that the dogs could be in dangerous hands, but they will be closely monitored, and will not be placed with violent criminals.
"There are liabilities with anything you do with inmates [but] we have a similar program, Paws and Stripes, that we've been running for four years, where we pair a rescue dog with a female inmate and they kind of go through the troubled times together," Ivey said.
This program would save taxpayers money, give inmates a constructive, therapeutic activity, and give lonely dogs some company and exercise.