Police officer Matt Rush from Cocoa, Fla., became a hero to three pit bulls when he saved them from a storm drain where they were trapped. The dogs who were inside a drainage system along a highway, were unlikely to get spotted and rescued by anyone, but the officer is glad he somehow found the dogs and helped saved their lives.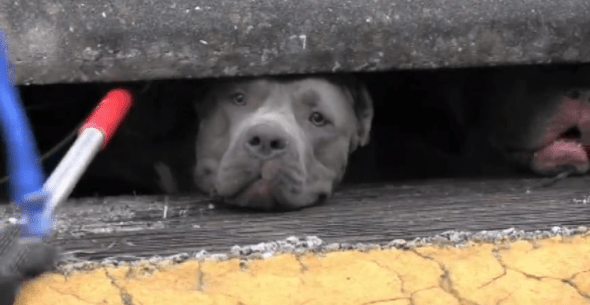 Officer Rush told WFTV Channel 9 he was driving by the 2800 block of West King Street near the Chevy dealership when he heard dogs barking.
"My first thought was, 'How in the world did they get in there, and how did I manage to hear them?'" said Rush. "I think they may have gotten in from a manhole across the street and then got stuck. Fortunately, they came out in good shape."
When the officer heard the barks he stopped to investigate and saw three heads pop out from inside the drain. Rush contacted dispatch and requested the help of animal control officers, but even with the help of professional dog handlers, the dogs needed more help from a few good friends.
The local fire department was called to help remove the heavy metal grate. Once Animal Control had the dogs secured with leashes, the grate was removed and the dogs climb out of the drain with the help of their new friends.
All three dogs appeared in good health and are being cared by Brevard County Animal Services. Rescuers hope to reunite them with their owner soon.
Watch the rescue video below.
Watch: 3 pit bulls rescued from sewer drainA Cocoa police officer found three pit bulls huddled in a sewer drain on the side of the highway. Animal Services is caring for the dogs and trying to find the owners. Read the full story here: http://at.wftv.com/1GGDkgx Watch the heartwarming rescue:

Posted by WFTV Channel 9 on Tuesday, October 27, 2015