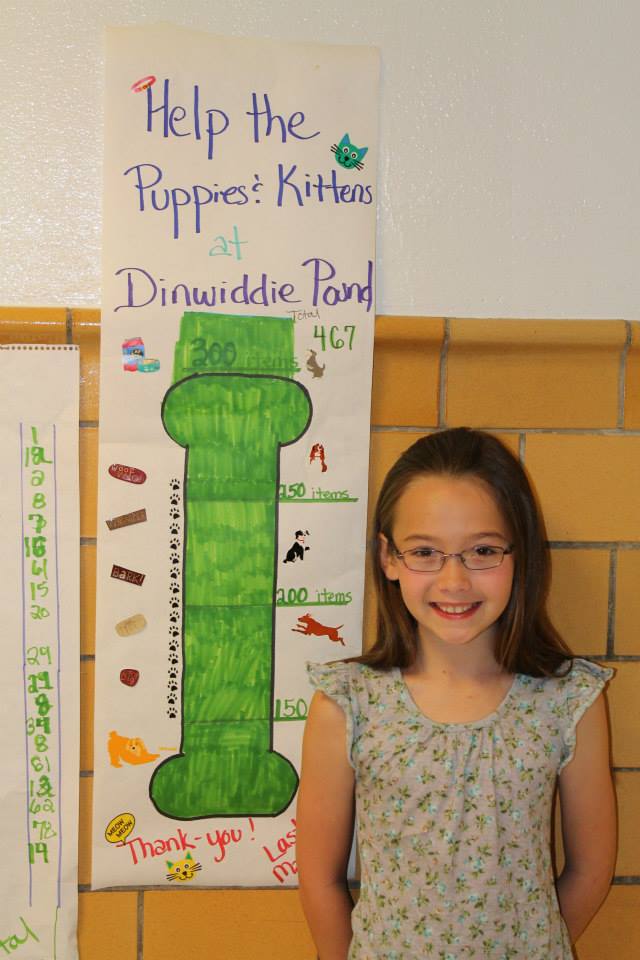 For Lillyan Robertson spending time at her local animal shelter is something she would do all the time if she could. The fourth grader's love of the animals at the Dinwiddie County Animal Shelter was demonstrated when she organized a donation drive that brought in a total of 467 items that in total value over $1,000.
Lillyan knows the animals at the Dinwiddie County Animal Shelter in Virginia almost as well as her own pets.
"I could sit there all day and love them," said Lillyan. "I like to make sure they are comfortable. I have always felt a connection to them."
After the shelter's open house in the beginning of May she knew she wanted to do something to help the animals at the shelter that mean so much to her. At first, the nine-year-old asked that instead of presents for her birthday she would ask for donations to the shelter. Lillyan's idea soon expanded as she organized a donation drive at her school, but she had no idea how large it would get.
Dinwiddie Elementary School sent home fliers with all of their students and Lillyan made homemade posters to post around school. Lillyan set an ambitious goal of getting 300 items donated. Students from over 20 classrooms helped contribute to the drive and one student brought in 73 items alone. In total 467 items were donated.
"When the final count came in, we were all like, 'whoa,'" said Lillyan.
With the donations raised by Lillyan all of the dogs at the shelter will now have a new collar, leash and all rescue animals will be transported in new crates. In addition the shelter now has a stock of dog and cat food.
Lillyan plans to do another drive again and hopes to expand it to include other schools in the area. She hopes to spend more time with the animals at the shelter this summer and in the future wishes to become a veterinarian.