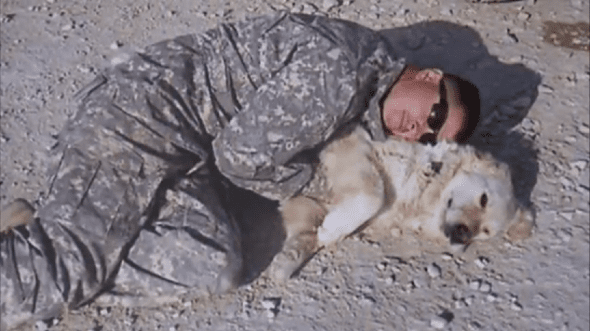 Ryan Anderson spent 365 days in Afghanistan with a Golden Retriever named Freddie by his side. The two shared a tight bond that continued for years after when Anderson adopted Freddie. At almost 14 years old it was finally time for Anderson to say goodbye to his friend on Wednesday afternoon.
Freddie served three tours of duty under the British army before serving his fourth tour with Anderson and the United States in Afghanistan in 2009. At the time Freddie was nine years old, considerably older than most of the other four-legged soldiers.
"He had a drive that would surpass the four and five year old dogs. He wouldn't quit," said Anderson.
Freddie protected hundreds of soldiers as a bomb-sniffing dog. His connection with Anderson was special though.
"Many times in Afghanistan, it was just me and him, sleeping on a cot. Him keeping me warm. We slept in the same sleeping bag a lot of times. He always had my back. He's my best friend," said Anderson.
Eventually arthritis forced Freddie to retire, and Anderson followed, adopting Freddie in 2010.
"I knew I was gonna take him home, no matter what I had to do," said Anderson.
On Wednesday it was finally time for Anderson to say goodbye, though it wasn't an easy decision for him.
"It's a day I've known that has always been coming for a while. He's been getting worse and worse. We went to the vet last week and I couldn't do it. But I'm going back to the vet today. He's in a lot of pain. I'm going to have him cremated, and get him a veteran's urn," said Anderson.
It was a difficult goodbye for Anderson and his family.
"He'll never be replaced, I know that," said Anderson.