Germany's Lehnitz animal asylum is home to a remarkable family: a French Bulldog named Baby has adopted six orphaned boar piglets.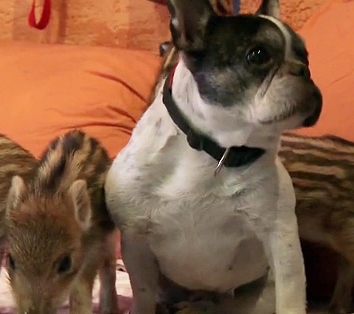 According to The Cute Show, "When VICE Germany sent us some footage of the Lehnitz animal asylum, we weren't sure how cute it was going to be. Little did we know, boar piglets live there! These little rascals were found in the woods and love to eat, sleep, play, and hang out with their surrogate mom, who's a dog. We're pleased to present Spots, Nesti, Diva, Borstel, Ernie, and Bert!"


[dcs_head top="0″ color="#666666″] [/dcs_head]
Happy Saturday, and welcome to another installment of the Saturday Pet Blogger Hop! You've found the right place to connect with other pet lovers. Whether you are a seasoned blogger, one who loves reading pet blogs, or if you're just thinking about starting your own blog – there is definitely something here for you. Acquaint yourself and enjoy – this is your resource, so use it as you see fit! Of course, you have to follow the rules, so let's get to that. Get those links in and have fun.
Link up your pet blog name and URL using the Linky Tool below. You only need to add your link once to be seen on all the Saturday Pet Blogger Blog Hop Linky Tools for that week. Note that if your blog is not pet related your link will be removed. Also note that only one post per blog is acceptable, and links promoting giveaways that are unrelated to the pet blogger hop will be removed. This is a community building exercise and not a promotional vehicle – please treat it as such.
Grab the new "Saturday Pet Blogger Blog Hop" button below and include it in your Saturday Blog hop post so that your readers will know what is going on. *Note – posting is optional. Feel free to just link and follow.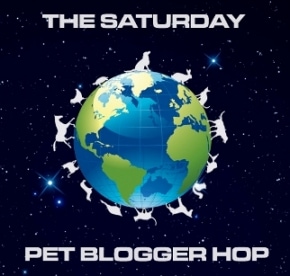 [dcs_hidden title="Get the NEW Badge Here" color="#555555″ ][/dcs_hidden]
Follow your co-hosts listed in the first 3 slots of the Linky Tool.
Follow as many other blogs on the linky as you'd like.
Take a moment to comment on the blogs telling them you're from the blog hop.
Follow back when you get a new follower through the Saturday Pet Blogger Hop.
Make friends and grow. ♥
*note – if your blog is hosted on WordPress please use this alternate code that will work without javascript.
[dcs_hidden title="Get the Code Here" color="#555555″ ][/dcs_hidden]