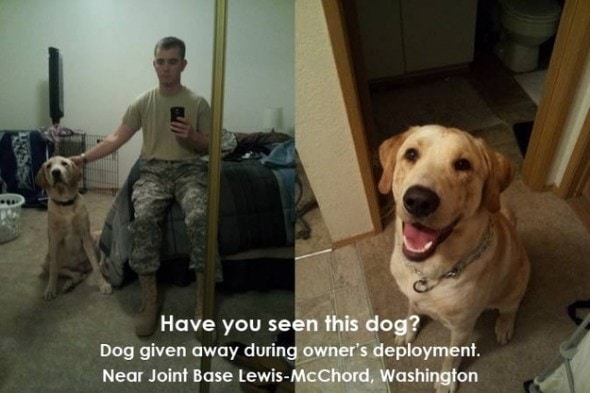 When Brandon Harker was called to serve our country and deployed for an 8-month tour in Afghanistan, he had no one to look after his 2-year old Labrador named Okley. He trusted a friend to care for his beloved companion, never imagining that his dog wouldn't be waiting for him upon his return home. Okley was sold on Craigslist.
Last week, Harker returned from his tour of service and looked forward to reuniting with Okley, whom he'd owned since the dog was a puppy. Harker contacted the friend to pick up the dog and learned his so-called friend gave Okley away on the web.
The 'friend' gave Harker no explanation as to why he got rid of the pet. He just told the American soldier his dog was long gone.
Devastated, Harker turned to social media to try to find his dog. He placed an ad on Craiglist asking for information on Okley, and so far Craiglist users have contacted Harker informing him they saw a 'For Sale' ad of a dog that looked just like Okley back in February.
"I am just trying to get him back since he was wrongfully given away or sold without my permission while I was deployed," said Harker. "It's heartbreaking."
The soldier who is based at Joint Base Lewis-McChord, Washington, has called veterinarians and local shelters to see if anyone has turned in his dog. Okley is microchipped and the information on his chip is current.
Harker hopes that whoever has Okley will see the ad and return him to his rightful owner.
If you have any information, contact Harker directly by emailing him via the Craiglist ad.