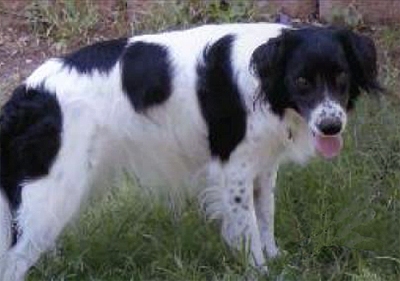 Cindy Boling fights back tears as she speaks of her recently deceased dog. "He literally has ripped our hearts out," she said.
The 'he' she refers to is the Fort Worth Police officer who gunned down her pet on her front porch. On Saturday afternoon Cindy and her husband Mark were unloading their truck after a shopping trip when a Fort Worth police officer showed up and began to approach them. Their back gate was open and their two dogs, Gracie and Lillie were near them at the time.
Concerned for their pets' safety, they told the officer the dogs were friendly. "I started yelling my dogs don't bite please don't hurt them. They're going to come down and just greet you and I'll grab them up and put them in the backyard," Mark Boling said.
Mark caught Gracie, but Lillie was curious and ran up on the porch where the officer was standing. Her friendly demeanor would cost Lillie her life: within seconds the couple says the officer pulled out his pistol and shot her in the back.
"My dog was standing there looking like 'I got a new friend' and he turned and shot her in the back", Mark Boling said.
Stunned and terrified, Lillie ran to the backyard, slowed to a standstill, drew her last breath and collapsed.
The officer was never meant to be there. He was called to 4917 Norma Street for a theft in progress, but instead reported to 4717 – the Boling residence. He was more than two blocks away from the scene of the crime.
A neighbor of the Bolings who came to the scene says she heard the officer say he thought Lillie was a pit bull. "I guess the officer that had shot Lillie I heard him say to the other one he said I was at the wrong house. I shot their dog and he said I thought it was a pit bull," Sylvia Benavides said.
The Bolings have not received an apology from the department, but that is not their concern. They want to know that another family will not suffer the loss of an innocent pet at the hands of police. "My main concern is if he's going to shoot an animal like that how is he going to react then in a real situation with a weapon," Mark Boling said. His wife concurs, and says Lillie deserved better.
"We did everything in the world always to protect our girls. We never accounted for a man walking up our driveway with a gun and killing our little girl, our little Lillie", Cindy Boling said.