Better Buddies, Inc., an eco-conscious and socially responsible pet product company, is bringing pet lovers and yogis together through the launch of their up-cycled yoga pet food mats, the Bone Appetit and Meow Mat!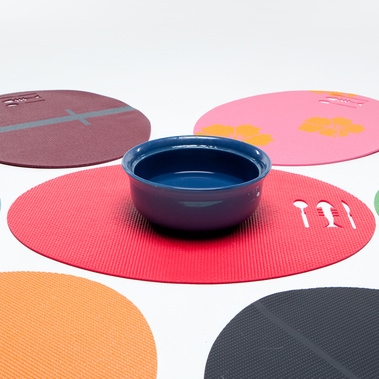 They have taken discarded yoga mats sent in through donation and put them through a Wash + StopTM sanitation process, and cut them into perfect dog and cat food mats. No two mats are alike in color or texture as each original yoga mat was different. Better Buddies is proud to bring new life to yoga mats that have lost their purpose.
Unlike standard pet food mats, the Bone Appetit and Meow Mats are easily washable in the dishwasher and are slide resistant.
Better Buddies has partnered with the Best Friends Animal Society to begin work on various social responsibility programs and currently donates 10% of profits. Better Buddies' mission is to shift society's focus to adoption as the means to find a pet and to make no-kill kennels the way to find them.
How to Enter
Today's four giveaway winners will each receive a free Bone Appetit mat in the color of their choosing by mail. As always, only those in our e-mail list are eligible to enter, and if you're not subscribed, you can fix that in five seconds by clicking here. When your first daily digest e-mail arrives, hit reply, type the words "contest entry" in the subject and send (current subscribers can reply to today's digest). We'll use random.org to select winners, who will be notified by e-mail. Entries will be accepted through midnight Sunday: please note that this contest is open to residents of the US and Canada only.
Good luck!