Dog-E-Glow™ was founded by dog and outdoors lovers who above all, wanted to keep their pets and others' safe while looking their very best. The company's founders have a combined 50+ years of manufacturing and distribution experience in the pet product industry.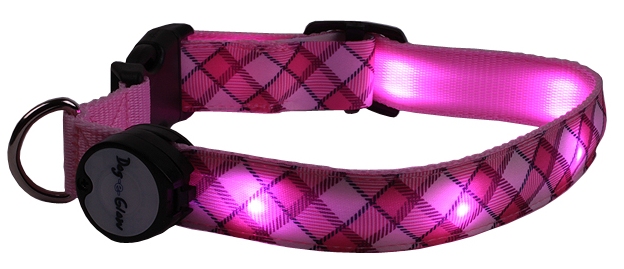 Founded in 2010, they were the first in the pet industry to offer a stylish/cool looking design combined with the safety/functionality of LED lighting, all in a user-friendly design.  There is currently nothing else like a Dog-E-Glow collar or leash, and their rapid growth and popularity of the products with customers is proving that.
There are numerous times when a collar or leash comes in handy.  Nightly walks, letting your dog off the leash, tailgates, hiking, etc. are all perfect times to turn on the leash for visibility up to 1000ft away. Our customers love our products because their dogs are now safer, easier to be spotted at night, and more stylish during the day.
Dog-E-Glow recently secured an exclusive license with the Collegiate Licensing Company for their products and launched a new college line.  They will have 50+ of the most popular colleges in the country available by the end of the year, making their collegiate products a perfect gift for sports fan dog owners at an under $30 price point.
[dcs_head top="0″ color="#666666″] [/dcs_head]
How to Enter
Today's two giveaway winners will each receive one free dog collar and leash of their choosing from Dog-E-Glow by mail. As always, only those in our e-mail list are eligible to enter, and if you're not subscribed, you can fix that in five seconds by clicking here. When your first daily digest e-mail arrives, hit reply, type the words "contest entry" in the subject and send (current subscribers can reply to today's digest). We'll use random.org to select winners, who will be notified by e-mail. Entries will be accepted through midnight Wednesday: please note that this contest is open to residents of the US and Canada only.
Good luck!