Giant George, the current Guinness World Records Tallest Dog in the World, is partnering with Life With Dogs to give away his newest book, Giant George: Life with the World's Biggest Dog, being published April 10, 2012.
"Engaging, humorous…Giant George's story stands apart from the slew of other dog books on the shelves." — Publishers Weekly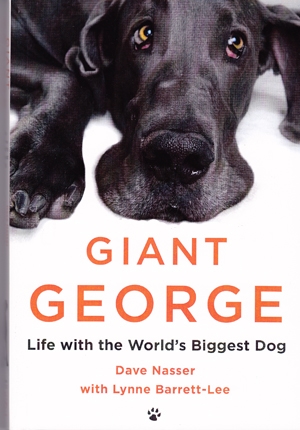 With his big blue eyes and soulful expression, George was the irresistible runt of the litter. But Dave and Christie Nasser's "baby" ended up being almost five feet tall, seven feet long, and 245 pounds. Eager to play, and boisterous to the point of causing chaos, this big Great Dane was scared of water, scared of dogs a fraction of his size and, most of all, scared of being alone.
GIANT GEORGE is the charming story of how this precocious puppy won Dave and Christie's hearts and along the way became a doggie superstar. In 2010, George was named by Guinness World Records as the Tallest Dog in the World-ever. He appeared on Oprah, and even has his own global fan club. But to Dave and Christie, this extraordinary animal is still their beloved pet, the one who has made them laugh, made them cry, and continues to make them incredibly happy.
To learn more about Giant George visit his website at www.GiantGeorge.com or become a fan at www.facebook.GiantGeorge.
How To Enter
Today's 5 giveaway winners will each receive one "pawtographed" copy of the book by mail once it is released on April 10, 2012. As always, only those in our email list are eligible to enter, and if you're not subscribed, you can fix that in five second by clicking here. When your first daily digest email arrives, hit reply, type the words "contest entry" in the subject and send (current subscribers can reply to today's digest). We'll use random.org to select winners, who will be notified by email. Entries will be accepted through midnight Saturday: please note that this contest is open to readers worldwide.
Good luck!