Rembo Corp is a global leader in odor elimination technology. In business since 1997, they produce ecologically sensitive products and develop new pet technologies for the 21st century. In 2008, while working on a difficult odor problem, founder Marvin Rembo discovered a particularly promising solution by utilizing the scientific principle of odor conjugation. He was able to completely neutralize & eliminate the odor without the use of any fragrances.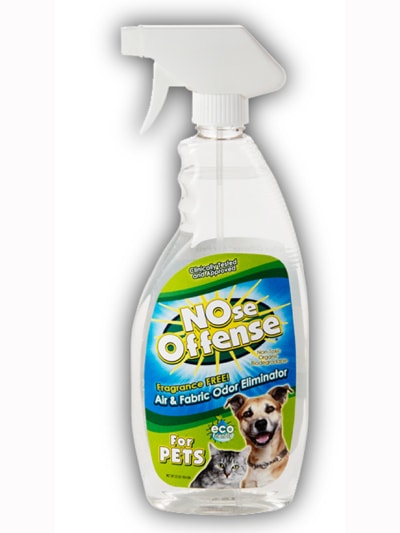 With his daughter Jaime, they continued development, searching for the proper combination of functionality and eco-friendliness. Once they had a balanced formula that was totally fragrance-free they had to look no further than their own dog, Zoe, to find the practical application for their formula. The smells that Zoe created and brought into the home seemed to be a constant presence.
After a year of further refinements they were granted a patent pending for their proprietary formulation.
The result is NOse Offense For PETS. A non-toxic, fragrance-free air and fabric odor neutralizer and eliminator scientifically formulated for pets. It's safe, eco-friendly and doesn't mask the pet smells with fragrances or perfumes, it eliminates them completely!
[dcs_head top="0″ color="#666666″] [/dcs_head] How to Enter
Today's five giveaway winners will each receive a free bottle of NOse Offense by mail. As always, only those in our e-mail list are eligible to enter, and if you're not subscribed, you can fix that in five seconds by clicking here. When your first daily digest e-mail arrives, hit reply, type the words "contest entry" in the subject and send (current subscribers can reply to today's digest). We'll use random.org to select winners, who will be notified by e-mail. Entries will be accepted through midnight Sunday: please note that this contest is open to US residents only.