Today's giveaway features an artist that we've long admired. Linda K. Evans is very well known in the Greyhound community, but her work appeals to a wider audience. Today, one lucky winner will have the chance to see why we're such big fans.
A long time love affair with the greyhound has brought Linda's art full circle. She shares her life with her husband Ron and their two very special brother and sister greyhounds, Leland and Emilee.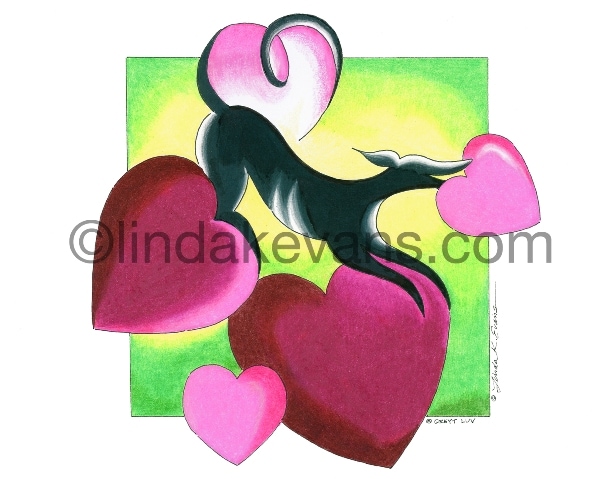 "I see the line, pattern and color of nature's wonders within the beautiful architecture of their bodies. They amaze us with the ability to
be lighter than air, fragile – yet powerful in their stride. We who love them, see them everywhere and are most at peace in their presence." –
Linda K. Evans
Each year, the sale of Linda K Evans Greyhound art contributes thousands of dollars directly to benefit Greyhound adoption programs throughout the United States. Linda has completed two new Greyhound Botanicals for this year's events.
Learn more about Linda and her work at http://lindakevans.com.
[dcs_head top="0″ color="#666666″] [/dcs_head]
How to Enter
Today's giveaway winner will receive their choice of one of the 4 "Inky" series , 11″x 14″ signed and matted prints shown above, by mail. As always, only those in our e-mail list are eligible to enter, and if you're not subscribed, you can fix that in five seconds by clicking here. When your first daily digest e-mail arrives, hit reply, type the words "contest entry" in the subject and send (current subscribers can reply to today's digest). We'll use random.org to select winners, who will be notified by e-mail. Entries will be accepted through midnight Wednesday: please note that this contest is open to residents of the US and Canada only.
Good luck!