Three Dogz are the new dogs on the block, and they are marking out new territory with a wide variety of fun, upscale apparel and unique products for dog, cat and horse lovers of all ages, genders, shapes and sizes.
According to company founders Joe and Debbie LaRocque, they started designing useful products with cute graphics on them for dog and cat lovers. As demand grew, their product lines expanded, and they now offer unique items for horse lovers as well.
A diverse catalog includes rhinestone apparel, rhinestone totes, and rhinestone chef's aprons.  Also available are breed specific embroidered hoodies, totes and garment bags. There are several striking screen printed designs, including their dog/cat mom apparel.
Many of their screen printed designs are also available on bandanas/shirts for your pets so they can be just as fashionable as you! They can customize and personalize many of their designs for a more unique look. They invite you to come on in and sniff around so you can see why Three Dogz is becoming a favorite place to shop for today's discerning "Pet Parents"!
Today's giveaway features three unique prize packages. Let's check them out!
Our first winner will receive matching his/hers coordinated t shirts, a matching bandana for their dog, and a bonus bag of dog bone paper clips.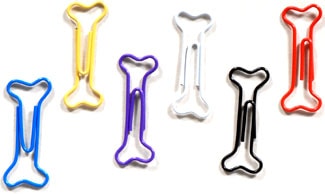 Winner 2 will receive a short sleeve rhinestone shirt in their choice of breed/design, a rhinestone necklace of their choice (from 10 colors) to match, and a bonus bag of dog bone paper clips.
Our third and final winner will take home a rhinestone necklace of their choice (shown above), a full color custom window decal of their choosing (see here), and a bonus bag of dog bone paper clips.
With three diverse prize packages, your odds of winning are terrific, so don't forget to send in your entry. New to our giveaways? Let us tell you how they work.
How to Enter
Today's three giveaway winners will each receive one randomly selected prize package (as shown above) by mail. As always, only those in our e-mail list are eligible, and if you're not one, you can fix that in five seconds by clicking here. When your first daily digest e-mail arrives, hit reply, type the words "contest entry" in the subject and send (current subscribers can reply to today's digest). We'll use randomizer.org to select one winner, who will be notified by e-mail. Entries will be accepted through midnight Wednesday: please note that this contest is open to residents of the US only.