A reader was so moved by our coverage of Bella that she asked us if we wanted to know more about her rescue and eventual recovery. The following letter describes what took place after cameras stopped rolling, and if you saw our original report, you will be amazed to see what has been accomplished in such a short time.
Linda Meiers notes: While doing this follow up for Life With Dogs I was able to personally talk with each of the women mentioned below, including Dr. Eiland from ARK Animal Care and Rehabilitation Clinic in Mobile, Alabama. They are an impressive group, they are the most devoted care givers and rescuers on the front lines – who deal with heartbreaking stories on a daily basis. Humble also comes to mind. They all do great work.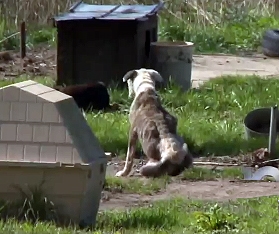 This is dedicated to those readers who wanted to know the outcome of a story written on February 14th of this year about a dog, later named Bella, who had been on a heavy chain in open view of a road, starving for years in Alabama. Many of us were instantly taken with this poor dog in full view of many who passed by every day and did nothing. We all could only imagine the horror she had endured. The photos proved to be gut wrenching and totally unimaginable.
It wasn't until this story hit the media, first on Fox 10 TV News, and then on Life with Dogs, that the plight of Bella took on a life of it's own. A phone call is what started the rescue in motion. Just a simple phone call to Fox 10 News, and the story was given to a great new reporter named Candace Murphy, who without hesitation immediately went to the address in Washington County, alone. She has my admiration.
The sheriff's department was called before a round of calls were made to the rescue community, and networking was in full swing. Robbie Fitzgerald of S.H.A.C.K. ( Safe Haven Animal Care Kennels) and her group of tireless, but dedicated volunteers were able to seize Bella and whisk her away to the care vets at ARK  Animal Care and  Rehabilitation Clinic, who then treated Bella for internal and external parasites, scabies (a type of mange) hookworm, and heartworm.
They provided compassionate care to Bella on a daily basis for a month, posted photos of her progress on their Facebook page, and answered hundreds of phone calls from concerned dog lovers from all over the US. In conjunction with S.H.A.C.K. they were able to secure donations for the medical treatment, food, and total rehabilitation that the badly neglected dog required.

So the good news is this, Bella has blossomed. She has gained weight, and is now up to 49 pounds. The three-year-old's hair is finally growing back. She is a loving patient dog that has no reason to trust humans, but does. And now she is feeling what it is to be loved.
The great people at S.H.A.C.K. are still providing on-going care for Bella, and she now has a fantastic caring foster Mom, Kaci Stokley and lives in Mobile, AL where she awaits adoption. Kaci has Bella on a special diet, vitamins, exercise in small amounts due to her weak muscles, and weekly training. She is still fearful, and needs some help adjusting, but for the first time in a very long time, Bella stands a chance.
According to Kaci "This dog is so very special, you can see it in her eyes!" She has a look of wisdom. "Bella is sincerely grateful," Kaci adds.
To help Bella, send contributions to ARK Animal Rehabilitation Clinic, 3625 Springhill Memorial Drive, South Mobile, AL, 36608 *please put Bella on your check in the memo section Each group that has helped has their own facebook page, I encourage you to visit those pages.
Linda Meiers