Chris Kilmer was driving along the 210 freeway from Pomona, CA to Monrovia when he spotted a dog that was in need of help. The Rottweiler mix was on the side of the road, and it was clear that his right rear leg was badly injured.
"It was just standing, with a back leg up, like half sitting, half standing," Kilmer said. "I was crushed."
"I just turned on my flashers and stopped right in the middle of the lane. I got him to the side of the road; he actually came right to me, and he just kind of laid down in the emergency lane, and I pulled my truck over."
And the dog hopped right in, understanding that this man was there to help.
"He's so sweet, he got in my truck and was resting his head on my shoulder."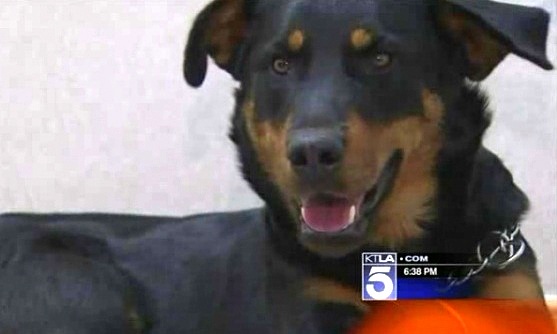 Kilmer initially thought to take him to the pound, but thought better of it when he realized the friendly boy might end up euthanized. So he took him to Dr. Greg Hardy at Best Friends Pet Hospital.
"I think he got hit by a car," Dr. Hardy said. "I think he was wandering around on the street somewhere, and just got clipped by a car."
X-rays showed that his right tibia had been completely fractured. Fixing it might not be a problem, but coming up for the funds to do so will not be easy. Though Kilmer likes the dog, he cannot keep him, or afford to foot the $2,500 bill for his treatment.
"I hope that he has a good owner, and that this was an accident, you know, that he wasn't abused, and just that he gets with a good family," Kilmer said.
As it turns out, the wanderer does have an owner, who contacted the animal hospital when he saw his dog on tv, and was reunited with him. Unfortunately, he also does not have the money to pay for treatment. Anyone who is interested in seeing this dog recover and would like to donate toward his treatment is asked to call the Best Friends Pet Hospital at 626-359-9193.
"He's a good guy, he deserves a chance," Kilmer said.