When Grace, a 2-year-old Cane Corso/Dane mix was found by Dekalb County Animal Control in Atlanta, Ga., she was emaciated and hurt. She only weight 48 pounds and had both bones on her front, right leg broken. Luckily for her, she found a savior in Friends of Dekalb Animals (FODA).
Chrissy Kaczynski, founder of FODA, met Grace and knew they had to help. Kaczynski contacted Katharine and Dan Luongo, FODA's foster parents, and asked them to meet beautiful Grace.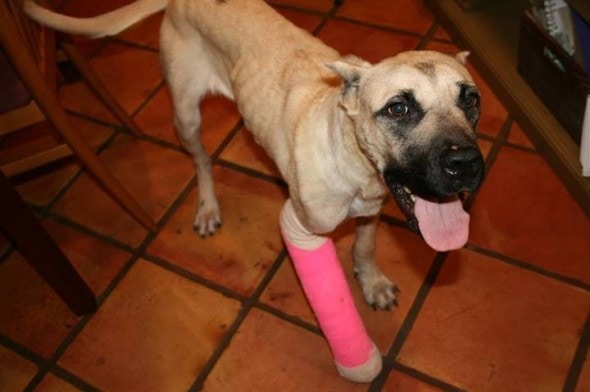 "When I met Grace, despite her condition and the obvious pain she was in, she crawled into my lap and just wanted love," said foster parent Katharine Luongo. "She was on the euthanasia list for that day, and neither my husband [nor] I could bear to think this sweet girl would never have a chance to just be a happy and loved dog."
On May 3, 2013, the Luongos opened their home and their heart and Grace was welcomed into the family. Along with the Luongos two other dogs, Finn and Zaxby, Grace was on her road to recovery.
When Grace was first rescued, the biggest concern was her weight and the Whipworms invading her. A healthy Cane Corso or Dane weighs 75-80 pounds, and Grace was half that weight. Veterinarians knew that Grace's front leg needed to be fixed, but the gentle giant wouldn't be able to sustain an extensive surgery at the weight she was in.
"Grace was put in a hard cast and on very restricted activity to protect her leg," said Luongo. "We focused on her weight and overall health. Three weeks later, we re-x-rayed her leg and the orthopedic doctor (Dr. Corse at Northlake Veterinary Hospital) found that her two broken bones had started to produce a bone mass and knit together."
At that point, the decision was made to keep Grace in a cast and allow her leg to heal on its own. Four months later, Grace's front leg is completely healed and stronger than before.
Even though the Luongos love Grace, they know that what she needs the most is a family of her own to care and love her unconditionally. Grace is a playful, loving, nurturing dog that will make a great four-legged family member.
"Grace is very motherly to both the boys (Finn and Zaxby)," said Luongo. "She will clean their ears and groom them endlessly. Grace also is very nurturing to any bottle feeders (kittens and puppies) I bring home. She stands guard by them, alerts me when they wake up, and likes to nuzzle them while I feed them."
The ideal family for Grace will have a big fenced yard, and a sibling dog for Grace to play with. A family with small children will not be a good match for her and her large size. Small children are active and full of energy, and rapid movements tend to scare Grace. She prefers the company of adults to children.
Even though Grace is completely healthy now, her big size might be scaring away potential adopters.
"Not everyone has the room for a big dog," said Luongo. "That is ok. We will wait until her perfect place comes along."
If you are interested in meeting Grace and offering her a place in your heart and home, please visit FODA's website and submit and adoption form.
Let's help this nurturing dog find her forever home.