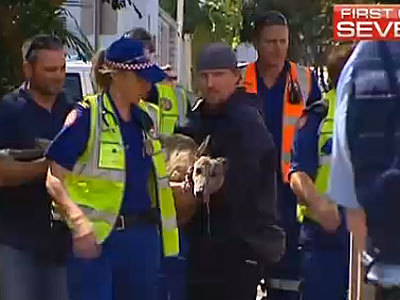 Unconscious and gasping for breath after being pulled from a factory fire in Australia, Mandy's life was surely coming to an end.  Paramedics administered oxygen, resuscitation and fluids, but the odds were not favorable.  It wasn't until Mandy saw her owner, Bianca Otley, that she began the strenuous fight for her life.
"She sat up and acknowledged I was there," Bianca said.  "It was like she was saying 'I'm OK, mum'.'"
On what would have been Tuesday in the US, the Marrickville, New South Wales resident dropped her greyhound off with friends at the Fantasy Futon factory while she went to work close by.  At around 11 am local time, the factory caught fire.  Due to the flammable contents and asbestos roof, the building was quickly engulfed in flames.
Despite the evacuation, two heroic factory workers stayed behind and risked their lives to save Mandy's.  They searched for the four-year-old greyhound until they could no longer take the smoke.
"We ran up there to get the dog and we tried to kick the door in a couple of times and couldn't get through… the smoke was that bad you couldn't breathe," worker Matthew Stein explained.
After rescuing a 46-year-old man suffering burns on his face and arm, firefighters immediately rushed back inside to save Mandy, who was hiding under a bed, choking on smoke.  Her low-to-the-ground location may have been a contributing factor to her survival.
Paramedic Sandy Macken worked diligently to revive the unconscious dog.  After 45 minutes, Mandy began to respond.
"My first sight was Sandy with her and I saw they were treating her like she was a person, I was so grateful," Bianca said.
The efforts made by the factory workers and emergency responders were gallant, but to Sandy, saving Mandy was "just part of the job."