A woman in Sanford, Florida, first encountered Harper when she spotted a squirming garbage bag. There was a man outside a Save-A-Lot selling Pit Bull puppies. This woman approached him and noticed a noise coming from a garbage bag he was holding.
She asked him, 'What's in the bag?' and he said, 'Don't worry about it.' The woman pressed the issue and the man gave her the bag. Inside was a puppy so deformed that it couldn't walk or hold up its head.The seller agreed to turn the puppy over to the woman, who brought it to Seminole County Animal Services.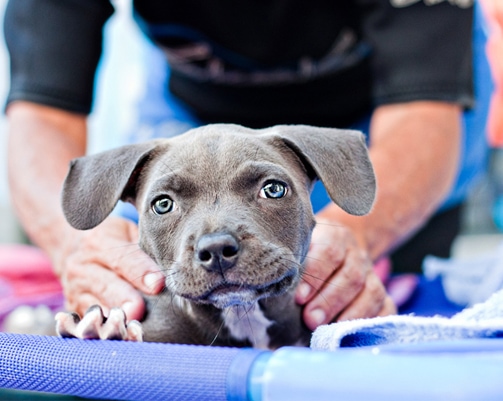 photo, cover photo: © Flyin Fur Pet Photography
That's when Dolly's Foundation stepped in. Erica Daniel decided to take the puppy home for one full and final day of unabashed affection. She had to show her what it was like to be loved. She'd planned on taking Harper home that night, letting her sleep in their bed, and having her humanely euthanized in the morning.
By the time the next morning arrived, Daniel was convinced that a second opinion was needed. When she got it, and didn't like what she heard, she sought a third. Despite warnings of potential heartbreak, Daniel took Harper under her wing, determined to find a way to make her well. With the help of a local business, time, and much love, she succeeded.
Hip Dog Canine Hydrotherapy & Fitness in Winter Park, Florida donated free hydrotherapy and massage therapy for Harper. Harper responded remarkably well, and before long she actually started walking. Bev McCartt, a Hip Dog therapist, explained that swimming has helped teach Harper what her natural gait should be. "Her brain kicked in and by the end of her first session, she was like, 'Oh, I can do this,' " Bev said. "She's a walking miracle. She's a real testament to a dog's determination to get up and just go."
Harper beat the odds and endeared herself to a nation of cheerleaders as news of her story spread. She was invited to appear on The Today Show just yesterday, and Daniels shared her inspirational journey with Matt Lauer.