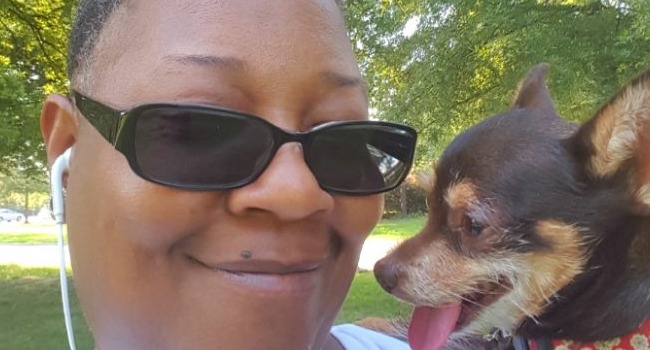 ———————————————————————————————————————
Back when Crystal was in the Army, she served as a food service specialist in Wiesbaden, Germany.
"I loved the fact that others saw my natural talent for culinary arts, and I was sent to many classes to sharpen and refine my skills," she told Pets for Patriots' Wet Nose Blog.
She is post-military service these days, having been honorably discharged, and now works in the healthcare industry as a dietary manager. But upon leaving, she found she missed the sense of duty and belonging so central to military life.
"What I miss the most is serving my country," she says, "and the bonds of my fellow soldiers."
The Army helped nuture her belief in service, though, and so Crystal volunteers with her local Disabled American Veterans (DAV) chapter, "answering the phone, taking messages and trying to be a good steward to those who have assisted me in my time of need."
In her off time, though, one of Crystal's favorite pastimes is watching football, which is the funny way she came to learn about Pets for Patriots and adopt a dog through its national companion pet adoption program for military veterans.
"Pets for Patriots attracted me first because of the name," she explains. "I am a New England Patriots fan."
Crystal learned more and read stories about veterans and their new pet friends on the organization's website. Inspired, she visited one of its local partners, the Virginia Beach SPCA, which offers discounted pet adoption and access to their low-cost veterinary clinic to veterans who join the program.
On the hunt for a small dog "to snuggle up with," one who could travel with her, instead one little senior ended up choosing Crystal. Dayzee and like many other shelter animals, her life beforehand was something of a mystery. It was something Crystal was willing to accept.
"I knew nothing about her past," she says. "I just took a shot in the dark because she came right up to me and just sat right on my lap like she belonged there, which stole my heart."
Once home and embarking on life together, Crystal fell more in love with the little pooch each day.
With each passing day Crystal became more smitten; even qualities that someone else might find unbecoming only drew the veteran closer to her tiny charge.
"What I love the most about her is the way her tongue hangs out the side of her mouth," she says, "and she follows me everywhere."
Before long, however, Dayzee's challenging behaviors began to reveal themselves.
"I did not know she had issues with other dogs or people," Crystal shares, admittind that she, too, has issues of this nature. "I've taken her to dog classes to help her with her anxieties, which were a hot mess. She was and still is very aggressive with other animals, but we are working through that."
———————————————————————————————————————
As a seven-pound "tower of terror," Dayzee would have never been a guard dog and most likely had some negative experiences that caused her to fear not only other dogs, but some people as well. With training, the senior dog no longer tries to chase cars, buses, motorcycles and bicycles as much.
Despite the dog's aggression issues, Crystal believes that she and Dayzee "are the perfect match."
"We are inseparable," she says. "She is a great snuggler and will alert my partner when I am having a nightmare, which I think scares her. All I know is, my partner will wake me and say 'Dayzee is worried about you.' We snuggle and go back to sleep."
Both person and pet are works in progress, each with their own emotional challenges. Crystal believes that the little senior dog helps her cope with her own demons by forcing her to focus on someone else's pain.
"She helps me … because I'm focused on helping Dayzee overcome her issues," Crystal explains, "and boy have we both grown."
The pair enjoy many everyday things together, like car rides, going for long walks, spinach and scrambled eggs. And Crystal's military training helps her give Dayzee the structure and discipline from which she has benefitted and become a happier dog.
It takes a special person to have the understanding and patience to work with a senior dog (or any dog, really) to help overcome fears. These behaviors are often what prompt them to end up in shelters in the first place. Is it possible that Dayzee sensed in Crystal the tough-but-tender love she needed? Crystal thinks that may be the case.
"We are a good team and with time and lots of love, we will both heal and grow even more."