Most of us regard our pets as family, and a man forced to give up his beloved dog when his health failed said he has been heartbroken ever since.
That heartbreak was exactly what motivated a group of sympathetic Heartland Hospice workers to search for and find the family that had adopted Teddy after he was relinquished. When hospice worker Tirah Brown told the family about the man and his history with the dog, they agreed to allow Teddy to visit his former owner in what would be an incredibly emotional reunion.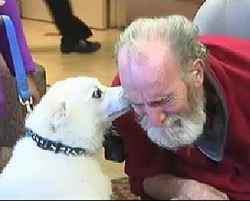 Earl, 67, was surprised to see his old dog Teddy for the first time in more than a year, and wept openly when he realized that his long lost friend had returned. He was forced to give up his dog after suffering a stroke and battling the onset of dementia. A year prior Earl's wife had passed away. He said goodbye to Teddy when he was forced to move into a long-term care facility.
"I would have never given him up [otherwise]," he said. Teddy had been a gift to Earl from his now-deceased wife, so the reunion was bittersweet. Despite the tears, Earl's caretakers say having the chance to see Teddy again was good for him.
"At this time things look pretty grim to him. He's at a new facility, he's not at his home anymore, he doesn't have his dog. His wife passed away approximately two years ago. He's grieving a lot of things. And I thought if I could put a smile on his face just temporarily it would do him some good," said social worker Tirah Brown.
After spending a few minutes with his old friend, Earl collected himself and spoke briefly with reporters. He was unable to mask his heartbreak at having been forced to say goodbye to his pets. "Him and the kitty-cat were our children," he said.
Teddy now lives with a Rockford couple and their young girl. In a sad, sweet gesture, Earl gave them the blanket Teddy had slept on since he was a puppy.