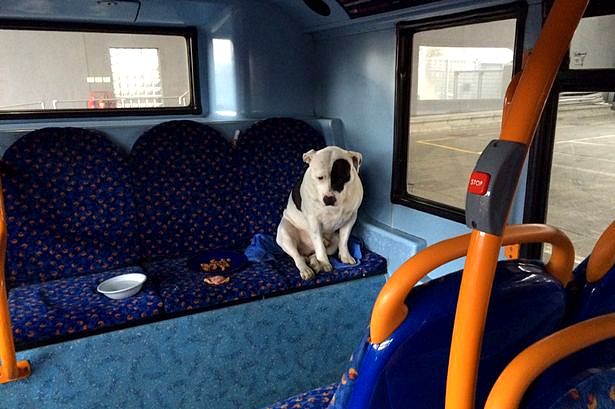 A dog left on a London bus by his owners became so depressed that no one could get him to move.  Looking at those big, baleful eyes and heart-shaped face make you wonder how anyone could do such a thing.  But the bus driver looked after him, and now he is being cared for.
Driver Amos Paul Mak was driving through east London when he saw two men board with the dog.  Several stops later, the dog hopped off alone.  Amos called over the loudspeaker for the dog's owner to go get him, but no one did.
"He was very clever – he looked both ways when he got off the bus."
The confused dog changed his mind about venturing off alone, and got back on the bus.  He stayed until they got to the bus station.  Staff tried to feed him, but the distraught dog refused to eat.
"The dog just got back on the bus while I was waiting and sat himself down in the wheelchair area," said Amos, who called him Buster.
"I thought it might be that the owner got off a few stops ago, but with hindsight the dog would have just followed them. I called control and had no choice but to carry on with the dog until Stratford."
Amos had to transfer buses so that one could be serviced, but the dog still wouldn't leave.
"I came back at about 1 am and the dog was still on the bus, but I wasn't able to take it home with me. So I made it comfortable and stayed with it for 15 or 20 minutes and it just didn't want to leave the bus.
"I could tell the dog was starting to become more and more nervous – it was shaking as I was stroking it. But it seemed like it was quite switched on and it seemed like a smart dog.  Because the bus had terminated at Stratford, the controller took the vehicle back to the yard with the dog still on it.
"I offered to take the dog home, but I wasn't able to because if it had bitten me, I could have sued the company.  The dog then stayed on the bus overnight because it didn't want to be moved."
He was picked up in the morning by the dog warden.  It is unknown if either of the men who dumped him was one of his owners.  There is a rumor that his owners were mugged by the pair and the dog was taken from them, but this has not been confirmed.
Hopefully Buster will either find his way back to his rightful owners (if they're deserving of him) or be adopted by a new, loving family.