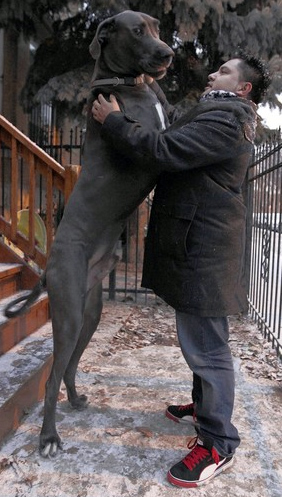 A Great Dane from Chicago is making headlines for stopping a sex crime in progress and keeping the suspect at bay until police were able to apprehend him.
According to Shakespeare District police Captain Marc Buslik, the attack took place  at 4:44 p.m. Friday in the 2800 block of North Whipple Street. The victim was walking home when she noticed a man following  her, police said.  "He grabbed her and threw her to the ground,'' Buslik said.
A neighbor and his Great Dane, Scooby, rescued the 14-year-old girl as she was being attacked by Larry E. Smith, 28, of the 3700 block of South Wells. The victim's landlord witnessed the attack after hearing the girl scream. He saw Smith trying to kiss her when Agustin Zamora and his dog Scooby arrived, cornering Smith in an alley and holding him under Scooby's watch until police could apprehend him. The neighbor "is very brave," the landlord said.
Agustin and Scooby
Smith was charged with one count of attempted criminal sexual assault and is being held on $200,000 bond.