It is the kind of bone-chilling story that ensures gasps and heartache, and it all began with an innocent game of fetch.
Bob Broome's house was busy that Saturday morning. He and wife Lori were hosting family for their grandson's baptism. Bob and standard poodle Belle were outside, burning off a little energy with a ball. But when Belle didn't return right away, Bob went looking.
He found Bella beneath the camper, her injury at once horrific and incredible. A screw rod from a scissor jack had impaled the left side of her chest.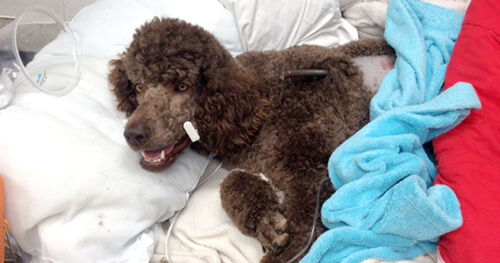 "When I saw the rod sticking out of her, I thought, 'Oh my God, my dog's going to die,'" Broome told reporters for PennVet Extra.
Belle was given pain meds to keep her calm and radiographs reveals that the rod had pierced her chest cavity. As a result, she had some air in her chest, a condition called pneumothorax.
Rather than attempt a removal himself, Belle's vet referredthe family to Ryan Hospital's Emergency Service. A friend took Bob and Belle on the hourlong ride to Philadelphia.
"I held Belle on my lap on the way up," Bob recalled. "She was calm. She never complained."
Penn Vet Emergency Service knew that Belle was on the way; her doctor had emailed the radiographs. Dr. Amanda Thomer, Resident in Emergency and Critical Care, was standing by. "I was excited to be able to help Belle, but also concerned about the damage the rod may have caused," she said.
Ryan Hospital is the region's only certified Veterinary Trauma Center and Level I Facility, with incredible resources available to animals suffering injuries like Belle's.
Though Thomer's concerned were warranted, upon examination, the rod's placement (and granted, its gruesome appearance) looked far worse than it was.
"Surprisingly, the only difference the rod made was that it was imperative we move Belle very carefully and that she remain sedated," explained Thomer. "If the rod moved, it could cause life-threatening conditions such as hemorrhage or a collapsed lung due to pneumothorax."
Belle's surgeons arrived quickly and Thomer gave Belle's medical history to Dr. Chloe Wormser, Surgery Lecturer, and Dr. Katherine Meyers, Surgery Resident.
"It was astonishing to see a giant metal rod going through her chest," said Meyers. "I've seen sticks in the chest before, but never something of this magnitude."
Belle was in respiratory distress due to mild pneumothorax. A procedure was performed to remove air from her chest cavity and her breathing and blood oxygen levels improved. An ultrasound revealed that the rod had not penetrated the diaphragm, a good sign.
"Our biggest concern prior to taking Belle to surgery was the location of the rod. It was in an area with a lot of vital structures—the aorta, lungs, and esophagus — and we really couldn't tell based on the x-rays how much damage we would find once we were in surgery," explained Wormser. "We can see animals that look relatively stable before surgery and then find a lot of damage, or have significant bleeding during the procedure, so there was some question of what we'd have to do to help Belle."
Once inside, surgeons discovered that the rod had penetrated the space between two of Belle's ribs, and was sitting adjacent to her left lung, but had not damaged any of the major vessels in her chest. It had, however, damaged part of one lung and fractured a rib. The lung lobe would need to be removed.
"Because the end of the rod was blunt, it didn't cause any other injuries. If it had been sharp, it would have been a very different situation," said Meyers.
"Belle was very lucky," Wormser added. "It could have been much worse."
"This was a pretty unique case. We don't see penetrating thoracic trauma like this very often," said Dr. Lori Waddell, Clinical Professor of Critical Care Medicine. "Belle was a fantastic patient, and I think the fact that she was a young, otherwise healthy dog was in her favor."
"Belle is recovering nicely," said Meyers. "When she left Ryan Hospital, she was bright and alert. I think, all things considered, she was very lucky."
The biggest challenge in her recovery, not surprisingly, was restricting Belle's activity!
"It was tough to keep her calm," said Broome. "She wanted to run and play like nothing happened. But she's fine now. She didn't lick her incision area or chew her stitches. She never even tried."