Matilda is a youngster that, like any other, loves playing with her friends.  She's so close with them that you'd think they were littermates.  There's just one problem:  she's a kitten, and all her friends are pit bulls.
From the day Lisa Revella Morabito brought the sprightly kitty home, the foster fit right in with her temporary siblings.
"She tries to nurse off of Spike, which is funny since he's our only male dog," said the director of operations at BARCS.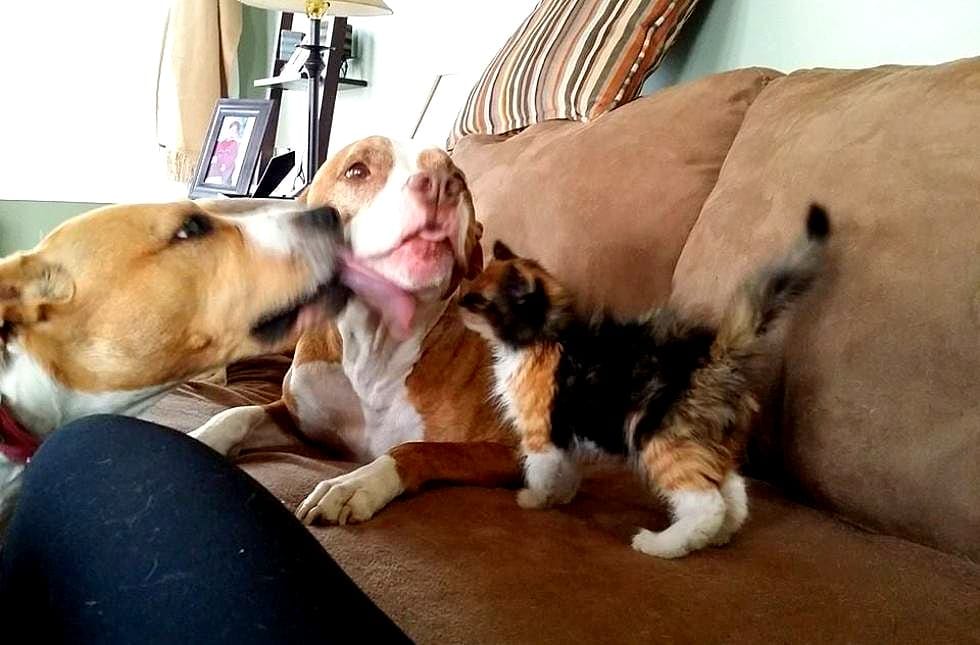 Morabito has a whole pack of puppers, including Piglet, a deaf pit bull mix rescued from dog fighting seven years ago who is now a therapy dog, and Betty White, a pit bull who came into BARCS with severe burns and now visits schools in an education program.
"She became a foster fail," Morabito said.  "She is so sweet."
Other members of the pack are Reed, a former stray cat, nine-month-old kitty Fiona, and Bella, a seven-year-old French bulldog who was saved from a puppy mill.
"She runs the show in the house," Morabito said of Bella.  "The dogs all let her boss them around and the cats love her.  We've had her six years."
Matilda came to BARCS as a thin stray, and Morabito brought her home "To get her fattened up and socialize her."  And has it ever been working!
"Her cuddling with all of the animals is adorable. Matilda usually runs around in the morning and plays with Fiona because the dogs sleep in as late as we'll let them.  Once the afternoon hits and the dogs have been fed and walked, they retreat for more napping and Matilda joins them then for cuddling."
Unfortunately, Morabito can't keep every animal she fosters.
"My husband is not a cat person and I had to basically promise my life away that we will not keep another after Fiona.  It's also kitten season here," the Baltimore resident said.  "Today alone we got in 21 kittens under 10 weeks so I do want to get her adopted so that I can take another."
And she was – a cutie like Matilda had no problem finding a forever home.