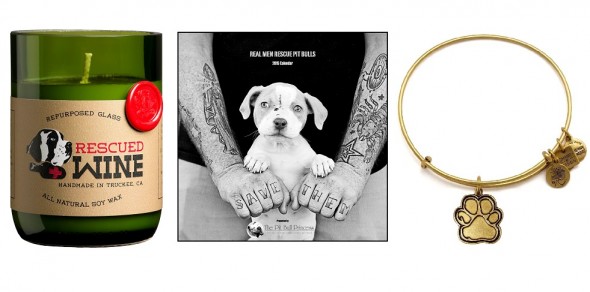 Most of us still have plenty of shopping to do, so why not kill two birds with one stone?  These gifts will be great for the animal lovers in your life, and they'll also help animals in need!
Real Men Rescue Pit Bulls Calendar – Hot guys and cute dogs.  The Pit Bull Princess also offers home & office furnishings, cards, stickers, magnets, bags, blankets, stuffed animals, onesies, picture frames, posters, wine glasses, dog accessories and tons of other gifts, many of them holiday-themed.
2015 Kittendales Calendar – Hunks with kittens – what could be better?
2015 New York's Kindest Calendar – 10% of sales go to Animal Care & Control of NYC.  They also offer jewelry, mugs, mouse pads & other accessories.
2015 Celebrity Pet Calendar – also lots of baseball memorabilia for the sports fans.
For hockey fans:
Alex & Ani Bangle – Everyone is obsessed with these things, and 20% of the proceeds go to the ASPCA.  The ASPCA's Tender Voices Collection has lots of different pieces available at Zales, Reeds, Gordon's, JC Penney, and Amazon.  The ASPCA also sells many gifts in their online store.
Rescue Chocolate – 100% of net proceeds go to animal rescue organizations.  Chocolate always makes a perfect stocking stuffer!
Rescued Wine Candles – wine bottles upcycled into wine bottle candles, with a portion of the proceeds going to animal rescue groups.
Biscuits by Lambchop – human-grade treats for dogs with special dietary needs.  This company donates to local NYC shelter.
EarthDog.com – high-quality hemp collar, harnesses, leashes, beds, and toys.  This green company won't even sell their products to stores that sell animals, and 10% of all profits go to a spay and neuter program.
Pretty much anything you want – The Animal Rescue Site has everything – t-shirts, hoodies, pajamas, purses, shoes, jewelry, home décor, garden décor, kitchenware, car accessories, pet supplies & accessories, the list goes on.  For every item you buy, food is donated to shelter animals.  There are also links for donations – as little as $1 – that help numerous causes – like caring for rescued horses, blind cats, dogs rescued from meat trade, etc. – and many of them give you a free ornament with your donation.
If you're planning to shop at Best Buy, Gap, Overstock, Nordstrom, Amazon, or a number of other sites, CLICK HERE first.  By signing up with iGive.com, you can support Forgotten Dog Rescue just by shopping. You can also pick a different cause to help.
Happy shopping – the animals will thank you for it!