Update (6-07-12)  Please see a message from Dan Page at the end of this article. Thank you for supporting this worthy cause.
—
"David" lost his job after a devastating back injury.  With no money to pay rent, he was forced to live on the street, surviving on donations. Living outside in the bone-chilling Colorado winter, David has seriously considered spending nights at the local shelter for the homeless.  The only thing that stops him from taking that step is his love for his six-year old German Shepherd.  The shelter cannot accommodate pets.
"Being homeless with a dog isn't easy," explains David.  All I have to do to get a roof over my head is give up Hope ("Hope" is the name of his dog).  But she depends on me.  I've had her since she was a pup and I figure she probably has another six years or so to live.  I'll live on the street for as long as I need, if that's what it takes to keep Hope safe."
The Boulder County Humane Society provides David with food for Hope, in an effort to keep her in his care.  They even took care of her for a few days this winter, when David became stricken with pneumonia.
"I'm very willing to work," states David.   "I just need to be able to take Hope with me to the job site, since I have nowhere to leave her.  Most people aren't willing to let me do that."
Dan Page first met David and his dog on a cold winter evening in February. The owner of Skill Highway, the business consultant is an ardent dog lover, and says he was so moved by one man's dedication to his dog that the story needed to be shared.
Giving up Hope
On February 11th, it was 14 degrees above zero, and I decided to go for a bike ride in the snow.
It's hard to explain why I like riding in the snow and cold.  Perhaps because the raw exposure to the elements makes me feel alive.  But it doesn't matter, because that's not what this story is about.
Three miles into my ride I stopped to adjust my face mask, attempting to cover a section of open skin (If you're riding 15 mph on a bike, the wind chill is about zero degrees at that temperature). About a hundred yards or so up the trail, I noticed a fellow with his bike pulled over.  He was hauling a ragged trailer behind his bike, covered with a green tarp, tied down tight.  It looked as if he may be trying to repair a flat tire.
There was a dog, a shepherd mix, prancing around, playing with sticks and blocks of ice from the side of the trail.
I guessed this fellow was homeless, living out of his bike trailer. So I dug out my wallet, snagged five singles, and rode up to him, inquiring if he had a flat tire.
He answered cheerily that he did not, and he had just stopped to dig some food out for his dog. There was a can of tuna under his kickstand, holding his bike up, so it didn't keel over from the weight of the trailer.  He had pulled out a few pans and a mug, which were laying on the trail beside the bike.
I asked him rather sheepishly if he could use a few bucks. He hesitated a moment, and said "Yes, I'll buy some food for Hope".  I handed him the cash and he thanked me.
Then he started to tell me his story, explaining the circumstances that led to living on the street, in the dead of winter. He had been working "fire mitigation" in Nederland, a small mountain town to the west.  In June of this year, he had injured his back pretty badly, ending up in the hospital.  He was unable to go back to work at his job, and could not find another that didn't involve using his back.
So he lost his ability to pay rent, and ended up homeless.
In June, he had another spasm attack in his back, ending up in the hospital again.  Anyone who has a bad back knows that sometimes you can't predict what is going to throw your back out.  It could be lifting that 80 lb. bag of concrete, or bending over to tie your shoes.
He scratched his dog lovingly, and explained that if he were to take his dog to the Humane Society and give her up, he'd be able to find a place to live immediately.  But in his situation, he can't find anyone who will accept pets.  And he is "Not Going to Give up Hope".
Then I got it. Hope was the name of his Dog.
He went on to explain that Hope was six years old, and he'd had her since she was a pup.  He described how the Humane Society here in Boulder gives him food for Hope, and he supplements it by buying her tuna (that explained the can of tuna under his kickstand).
He figures he probably has another six years or so with her before she dies, and he's willing to spend it living on the streets, with his bike and his trailer, if it means keeping Hope safe.
I was speechless, never having witnessed such devotion between a man and his dog.  This man was well spoken and articulate.  Life had thrown him a few curveballs, but he kept standing back up. And he loves his dog.
He wasn't asking for charity.  I just happened to stop and offer it.  My reward was a lesson on love of animals, and the kindness of human spirit.
We went on chatting for another twenty minutes or so, on the side of the trail in the snow and cold, like old buddies hanging out together.  He told me of other spasm attacks he had recently with his back, ending up on the ground for several hours at a time, unable to move, with Hope licking his face. I asked where he spent his nights and he answered that he keeps moving, so he won't get a ticket. (Boulder just recently enacted a new law after the "Occupy" event on the courthouse lawn, outlawing sleeping in the parks).
At a certain point in every conversation there comes a time when it is over.  Both of us sensed that moment, and he stated that he knew I had other things to do besides standing on the trail talking with him.  He asked me what my first name was, and stretched out his hand.
I answered "Dan".  He shook my hand and introduced himself with his full name. Then he added "Today is my 50th birthday.  I really appreciate the five bucks you gave me, and Hope will enjoy it too.  But mostly, I appreciate you just taking the time to talk with me.  I don't have many friends.  I spend all my time with Hope."
Choking back my emotions, I thanked him for talking with me as well, mumbling something about how much it meant to me.  And continued on my ride. As I rode on through the cold and snow, I couldn't get this chance encounter out of my mind.  In thirty minutes, this gentleman had given me a raw lesson on life and love.  On the side of a trail in the snow.
My destination for this wintery ride was the grocery store, picking up some dinner for my family.  I found myself in the canned food aisle, buying tuna, hoping to find Hope on the ride home.
I took the same route home, searching for this man and his dog.  I rode around the area for awhile, poking my head under bridges and other places where I would camp on a snowy night if I had a dog and wanted to avoid getting ticketed.
But he was nowhere to be found.
I look for him on my daily rides, with a stack of tuna cans in my backpack, searching for Hope. Maybe we'll meet again.  I guess it doesn't really matter though. This man and his dog had a profound impact on me, reinforcing my faith in human nature and my desire to do some bit of good in the world, however I can.
-Update Continued-

Hi Neil,
Hope all is well. Just wanted to give you an update on David and Hope, since so many people had asked for one.
First of all…I am so impressed with the outpouring of support. I'll admit that this has taken on a life of it's own, and it has been a lot of extra work! I finally caught up with David and Hope yesterday evening.
People have been asking for photos, so I brought my camera. Attached is a photo of Hope and David together. I talked for quite a while with David and he is totally overwhelmed and humbled by the incredible generosity of your subscribers. Please thank them all of them, from David.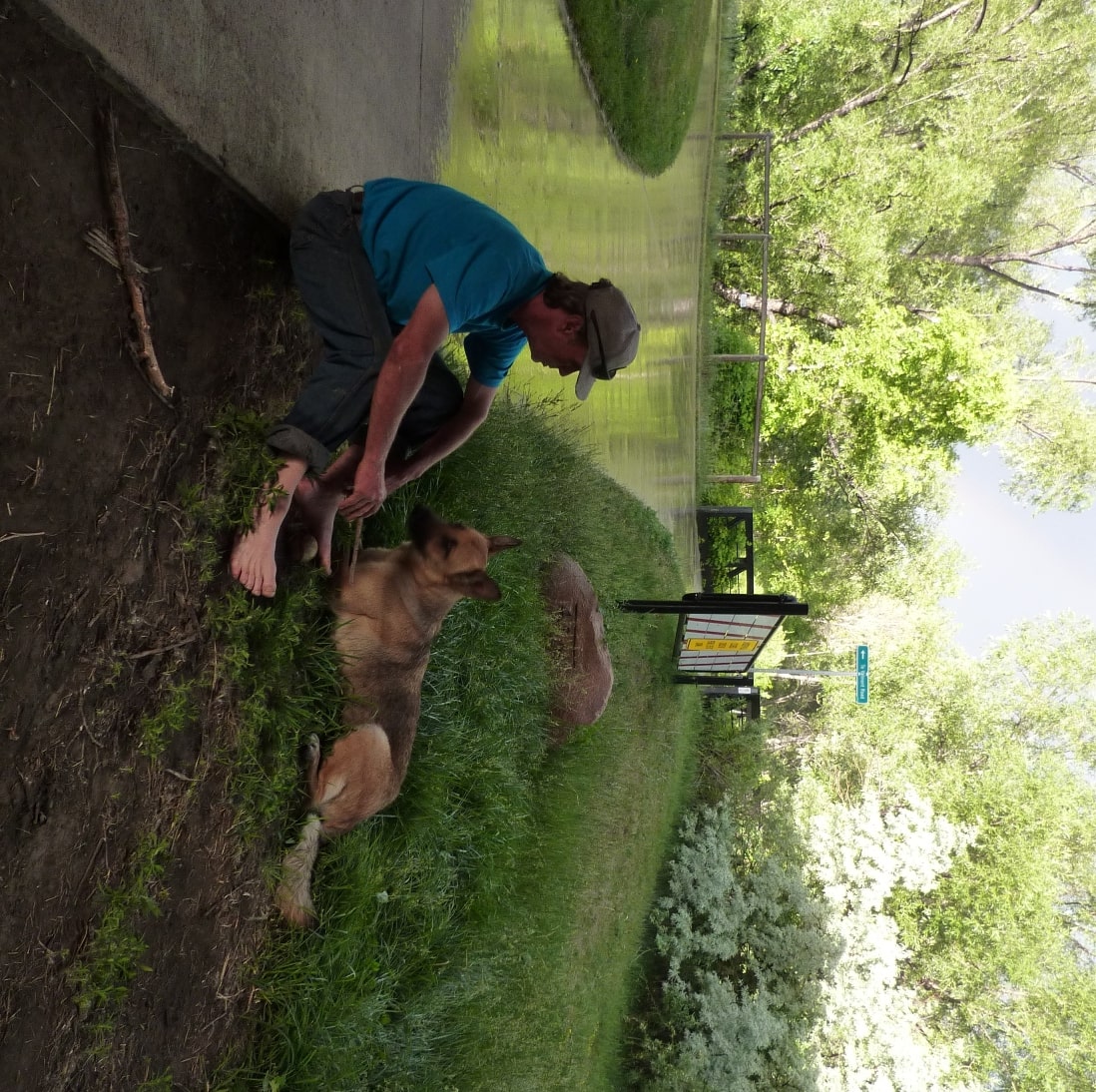 He wants to be very smart about how to use the funds that your members have sent his direction. He thinks (and I agree) that the smartest thing for him to do is to do his best to find work, knowing that once he finds a job that can support him, we can use some of the funds to find a dog-sitter for Hope during the day. If he spent it all on an apartment right now (even if he could find one), there would be nothing left, and if he couldn't make his 2nd month's rent, he'd be back out on the street.
Since it is summer now (and easier to sleep outside), he thinks he might be able to save up some money over the summer, and add it to the funds that have been donated. That way, he would hopefully have enough for 1st and last month's rent, plus a deposit, and income to pay the rent going forward.
His plan is to try and find a place by this fall, before the weather starts to turn cold, but take advantage of the warm weather right now, and continue stay right where he is. One of your members has offered to take Hope into a local vet for a checkup, which I think he will take her up on.
I hope these updates have been helpful.
Warm regards,
Dan Page
NOTE: Due to popular demand, a second Chipin widget has been added. Please give freely…