In the city of Houston there is a park, Melrose Park, known for the many homeless pets that roam it. Ironically, this park is right across the Harris County Animal Control facility, yet, the abandoned animals are not helped unless they physically reach animal control's gates. Melrose Park is on city property, and this is not Harris county jurisdiction.
Not to worry, there is a group of animal lovers from Melrose Park Neglected Dogs, who visit the park on a daily base. Twice a day, volunteers leave food and water for those pets in need. This project runs solely on donations and their latest donor, Annaleise Kimmell, is the youngest and most impactful donor they've had.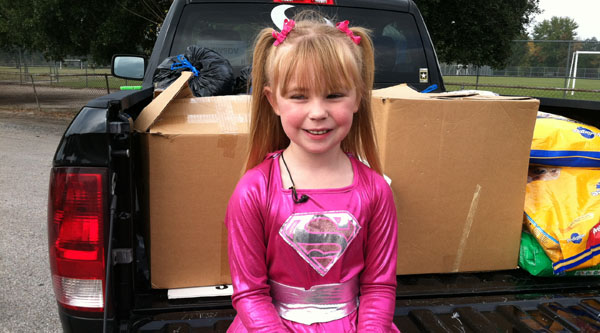 Kimmell is only 6-years-old, and for her birthday she asked guests that instead of buying her a gift, they bring donations to help Melrose Park's abandoned dogs.
"Parks are supposed to be happy places, and Melrose Park is full of sad dogs that don't have homes," Kimmell told KVUE News.
The donations collected at Kimmel's birthday party filled two SUVs, and volunteers from Melrose Park Neglected Dogs were static to see that at such young age, Kimmell is interested in helping needy dogs.
"I think she's phenomenal," said project volunteer Erin Bouton. "It's just the best thing, asking somebody else to do something for her birthday. She's a hero."
Kimmel hopes to become a veterinarian. She is a great inspiration for others to follow. You don't have to be an adult, or have more than sufficient economic means to help an animal in need. All you need is the will to help those who need you the most.