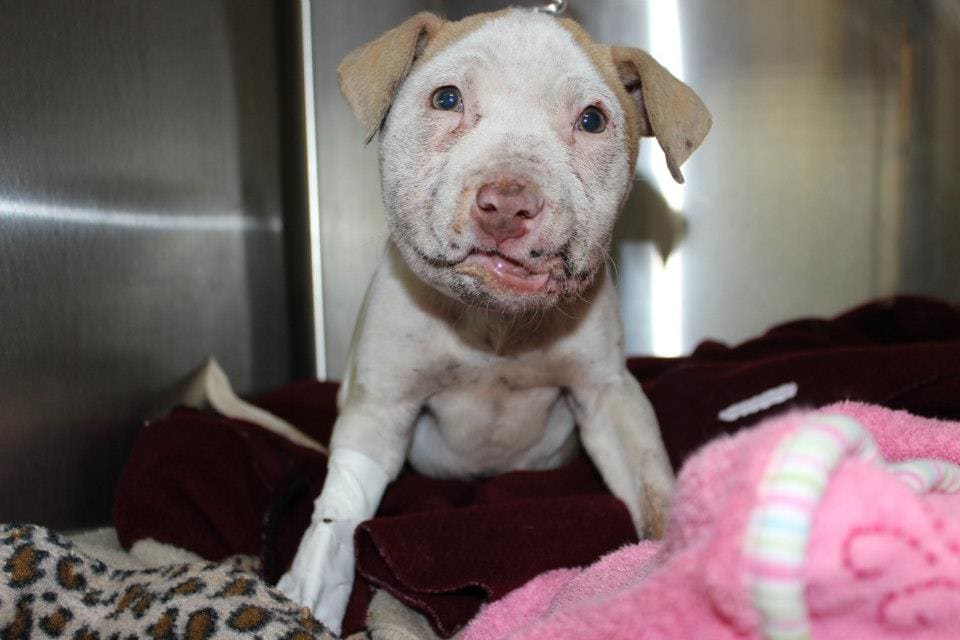 The SPCA of Niagara in New York is trying to find more information on a puppy that sanitation workers found abandoned on Wednesday.
Lyle Rounds and Jim Fisher had just dumped some cans in the back of their truck when they spotted the little puppy curled up in a fetal position on the ground. Rounds stared at the puppy in shock and then quickly alerted Fisher who used his jacket to try to warm the puppy up.
"She was all mangled up," said Fisher. "But she curled right into my arms and started licking my face." Fisher alerted their boss and police arrived to take the puppy to the SPCA. The puppy, that is estimated to be around 8-weeks-old, was found so emaciated and dehydrated that shelter workers believe that she would've been dead in a few days if she hadn't been found.  The puppy was also suffering from a broken jaw.
Shelter Director Amy Lewis says they are still not sure what happened to the puppy. "We're kind of unsure of the circumstances surrounding her injuries," said Lewis. "We initially thought that she may have been hit by a car and then the vet had mentioned that the possibility of the injuries being inflicted by a human."
The puppy has been named Gladys and she has already received surgery on her jaw thanks to an outpouring of support from the public. In just 24 hours over $2,000 in donations were received for Gladys.  Her jaw is expected to heal in four weeks.
The SPCA is asking anyone who has any information about Gladys to call them at 716-731-4368.