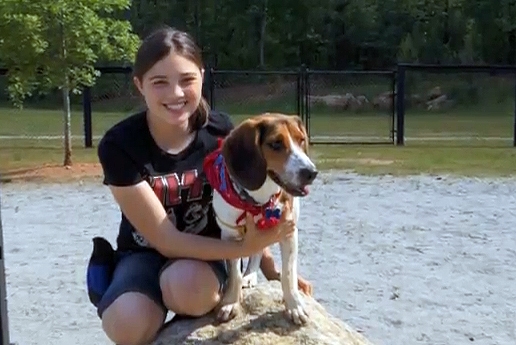 Teen animal lover Molly Tillander is changing the dog world, one rescue at a time. The sixteen-year-old is on a mission to help shelter dogs find new homes, and she's donating her time and her talents to help make that happen.
Tillander trains shelter dogs to help put them on a fast track for adoption. Knowing that a trained dog is a happy dog, and that owners of well trained dogs form stronger bonds, she donates her time to local shelters, training dogs while they wait for new homes.
Tillander recently found a home for a Beagle-mix named Chance after fostering him and teaching the dog a plethora of tricks – 40 to be exact.
"I foster dogs with beagle rescue because I wanted to adopt a beagle. And I wanted to know more about them before I just adopted one. Then I ended up wanting to just keep fostering," Tillander said.
Tillander and her bothers, Alec and Jacob, are currently fostering a Labrador-mix named Bailey found abandoned and ill on the side of a nearby road. Tillander is already starting to teach her the basics. Once healthy, Bailey will be available for adoption from Atlanta Beagle Rescue.