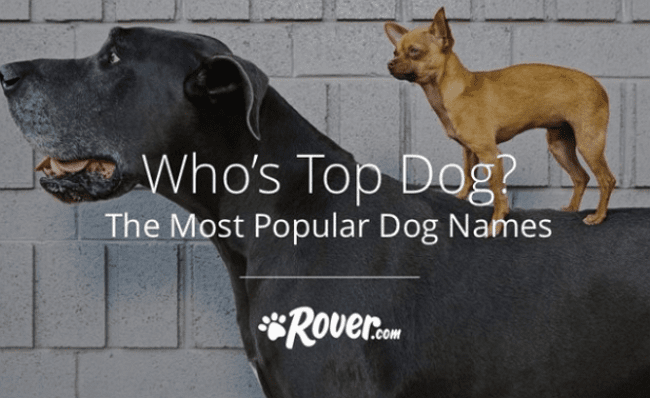 What do names like Dobby, Beyoncé, Khaleesi, and Jack, all have in common? According to Rover.com, they are some of the hottest dog names of this year.  This is the fourth annual report for the site which is the nation's largest network of pet sitters and dog walkers, and they have compiled some fantastic data that culls top overall names, those that appear swayed by today's culture, food, technology, and, of course, politics, among others.
Here's what they have to say:
"Decades ago, dogs were simply our pets and the names we chose for them, like Spot or Rover, demonstrated that. As that relationship has evolved, 'pet owners' have begun to think of themselves as 'pet parents,' and dogs are part of their families," said Rover CEO, Aaron Easterly. "As the bond between people and their pets grows, we've seen a shift in how pets are named. The way we name them, sheds light on that unique human-dog relationship and reflects our personalities, cultural trends and the things we're passionate about, from politics to celebrities."
Top Dog Name Trends
According to a Harris Poll survey, 95 percent of pet parents consider their dog a part of the family, so it's no surprise dogs are named more like human family members than pets. In fact, 28 percent of dog names are decidedly human, a number that has been steadily increasing over the years, and is up 2 percent from last year.
Pet parents often look to popular culture for inspiration when naming their dog. A recent survey of dog owners found 53 percent, including 75 percent of Millennials, named their dog after a movie or TV character, book character or celebrity.
Pop Culture Trends
Pokémon dog names had been steadily trending down—but thanks to the huge popularity of Pokémon GO, they're back on the uptick.
Dog names inspired by "Stranger Things" are also on the rise. Names like Eleven and Barb are up 12 percent.
Hamilton had a breakout year on the stage and with pet parents. The name is on the rise in Washington DC (96 percent), Boston (88 percent), New York (15 percent), and Philadelphia (35 percent).
Now more than ever, pet parents are drawing inspiration from powerful women. Names like Coco Chanel, Beyoncé and Ruth Bader Ginsburg climbed over 13 percent.
Food Name Trends
Pet parents are naming their dogs after their favorite snacks with junk food-themed names on the rise, increasing 2 percent in 2016. Health food names declined 17 percent year over year.
Dogs named Kale are most popular in Portland, Ore., and dogs named Quinoa are most popular in Los Angeles.
Coffee-themed names like Kona, Espresso, and Mocha are declining nationally, but continue to rise in Seattle, home of Starbucks and the triple-venti-soy-no-foam latte.
As human names rise in popularity, there's been a steady decrease in "cutesy pet names" for dogs, like Pookie and Snuggles, since 2014. This year, "cutesy pet names" decreased nearly 5 percent. Likewise, "classic dog names" like Fido and Sparky are falling fast, steadily declining a few percentage points each year, and falling 9 percent from 2015 to 2016.
And to make things even fun, Rover launched the Dog Name Generator. Input the requested information into the generator and Rover's database will give you the perfect name for your dog!  Visit www.rover.com/my-dog-name to find yours and https://www.rover.com/blog/dog-names/ to read more.