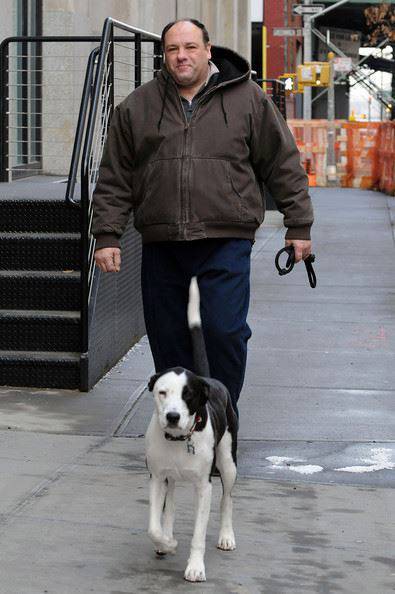 James Gandolfini will probably best be remembered by fans as Tony Soprano, HBO's charismatic crime boss. What many don't know is that he was a dog-lover, and a staunch advocate for pit bulls.
His love for the vastly misunderstood creatures are what inspired him to star in his final film, Animal Rescue. Due to be released in 2014, it will be featuring an adorable pit bull puppy. Starring alongside Gandolfini are Tom Hardy, who recently played Bane in The Dark Knight Rises; and Noomi Rapace, whose breakout role was as Lisbeth Salander in The Girl With the Dragon Tattoo.
Little information has been released, but IMDB calls the film "a crime-drama centered around a lost pit bull, a wannabe scam artist, and a killing." Gandolfini played the owner of a bar, one of whose employees (Hardy) rescues a pit bull puppy from the trash. But the dog belongs to a criminal who wants him back.
It is hoped that Animal Rescue will help bring animal abuse issues into the spotlight, as well as help reduce the stigma on pit bulls.
"It was such an honor to work with Mr Gandolfini and nothing but a pleasure to see him perform. He was one of the greatest," said director Michael Roskam. "I'm so sad and thinking about his family. I wanted to make him proud with the movie we made together and now it will be in his loving memory."
Missing Gandolfini is his rescued pit bull, Duke, who was nearly always at the departed actor's side.
Hardy is also an animal afficionado, and is slated to be team up with Leonardo DiCaprio and Tobey Maguire to produce an anti-animal poaching and trafficking film.