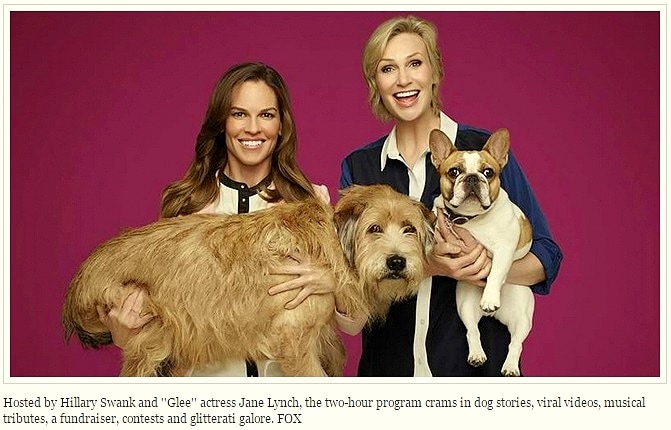 Once you've finished gobbling down that turkey and have slept it off a bit, check out Fox's Cause for Paws: An All-Star Dog Spectacular, which airs November 27th at 8 pm eastern.  Hilary Swank and Jane Lynch will be hosting the two-hour program, which will feature dog stories, videos, contests and a fundraiser to help homeless dogs.
This is said to be the first televised event specifically aimed at getting dogs adopted and raising money to rescue others.
"More than nine million animals end up in shelters every year and only half of them make it out," Swank explained.
That's why the dog lover and co-producer of the show is using her celebrity to help animals who so desperately need a chance in a loving home.  Petfinder.com has partnered with the program to showcase dogs across the country that people can adopt.
Some of the other well-known dog-loving celebrities that will be making cameos are Betty White (how could she not?), Scarlett Johansson, Miranda Lambert, Kristen Bell, Josh Duhamel, Fergie, and Leeann Rimes.  They hope this effort will be so successful that it can become an annual event.
"We've seen the entertainment industry come together for so many worthwhile causes benefiting people, now it's time for them to rally for man's best friend," co-executive producer Michael Levitt said.

In addition to human celebs, there will also be famous dogs, like the Olate dogs – the acrobatic million dollar winners of America's Got Talent.  Contests will include best kisser, smartest, cutest puppy, best celebrity look-alike, and best viral video.
Other segments will talk about the importance of spaying and neutering, fostering, and the adoption of special needs and senior dogs.
"Rescue dogs are not broken animals," Levitt said. "They are the victims of bad circumstances, but most are loving and most grateful creatures."
Rica Powell of Smiling Dog Rescue in Tucson, Arizona will be bringing in "a fabulous boy. I know we are going to get hundreds of applications for that dog."
Though the telethon will have some still competition with the NFL's night game, Levitt knows there are plenty of people who don't give a hoot about sports.
"We think we are amazing counterprogramming," Levitt said.