Though he was fighting hard to survive, hero police dog Rocco has succumbed to the injuries he suffered in the line of duty while trying to catch a fugitive sex offender. He received full police honors, and Pittsburgh's flags were flown at half-mast in homage to the fallen hero.
Pittsburgh Mayor Bill Peduto has released this statement on the passing of Rocco:
"I am saddened to learn about the passing of K-9 Officer Rocco. He served this city faithfully and paid the ultimate price in the line of duty in service of the residents of our City. His brave actions very possibly spared the lives of two other officers. My thoughts and prayers are with his fellow officers and the entire Pittsburgh Police Bureau."
On Tuesday Rocco was assisting in the capture of 21-year-old John Lewis Rush, a convicted sex offender, who was wanted for a violent home invasion and failure to comply with Megan's Law registration. The dog found the man hiding in the basement of a Lawrenceville home and was attacked with a five-inch blade, which tore through his back and impaled his spine and one kidney.
Rocco's handler , Officer Phillip Lerza, and another officer were injured in the fray, but it was Rocco who bore the brunt of the brutality and got the man to drop his knife. Lerza rushed him to the Pittsburgh Veterinary and Specialty Emergency Center, and waited to seek his own medical treatment until his partner was tended to.
"If it wasn't for this dog, I'm pretty sure that that handler wouldn't be here," Dr. Julie Compton commented. "The amount of injuries that this dog sustained, if that was meant for his handler … he may not have [survived]."
Multiple transfusions were given to Rocco, who needed one-and-a-half times as much blood as his body held. PVSEC has the only dog blood bank in the area, and is always hoping to see donations for dogs in need.
"We have six officers in another room here who have been holding vigil over their partner," said Dr. Anthony Pardo, a veterinary surgeon.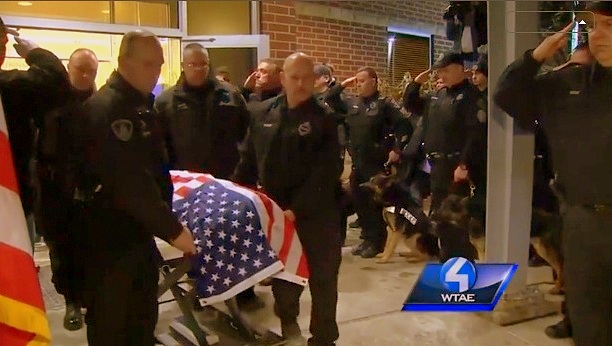 Though he appeared to be gradually improving, Rocco developed pneumonia, and internal hemorrhaging could not be stopped. The eight-year-old dog died on Thursday.
"He fought hard for almost two days straight," Compton said. "He fought as hard here as he fought out on the field. It was a great loss for the city of Pittsburgh."
Officer Lerza and his wife were heartbroken over Rocco's death. They had cared for him in their home during off-hours since 2010.
"He lost a member of his family," Pittsburgh Police Commander Eric Holmes said. "As a former K-9 handler myself, I recognize the bond an officer has with their partner. They become one of the family and probably more importantly, the K-9 handlers spend more time with their partners than their family because they're with them at work and at home."
Rush is currently being held in isolation at the Allegheny County Jail on $1 million cash bond. He is being charged with aggravated assault, cruelty to animals, disarming a law enforcement officer, resisting arrest and maliciously attacking a police dog.
When Rocco died, the American flag was draped over his body and he was carried out to bagpipes and saluting officers, with a police procession to the cemetery. The next day, Mayor Peduto ordered city flags to be flown at half-mast to pay respect to Rocco.
Pittsburgh Steelers' quarterback Ben Roethlisberger, whose foundation donates K-9s to police departments, has issued this statement:
"Our condolences go out to Officer Phil Lerza in the loss of his partner Rocco. Canine Officer Rocco has faithfully served in the Pittsburgh Police Department for the last eight years. It is unfortunate situations like this that keeps our foundation doing what it does and why we are so passionate about trying to help protect our law enforcement officers. Thank you Rocco for your service and dedication."
Rocco's funeral will be held Friday at Soldiers & Sailors Memorial Hall and Museum in Oakland. Doors will open at 10 am and is expected to last from about 11 am to 1 pm. This service is open to the public, but priority seating will be given to police officers and their families. Cameras are not permitted.