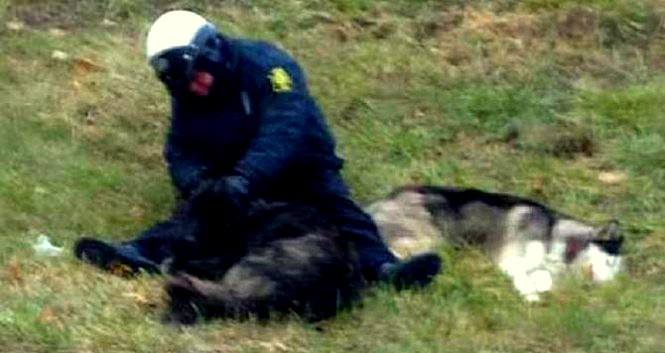 In Kansas City, Missouri a police officer wanting not to be identified became a good Samaritan when he saw two lost puppies half frozen and hopelessly lost.  He called for backup, and waited with the pups in the freezing snow until help arrived.
By the time the officer had gotten to the poor dogs, they were almost frozen, and as hungry and frightened as could be.  With the wicked cold temperatures, anyone not very well-equipped would not survive out very long on their own.
A witness to the situation named Debbie Davis told local news outlet WDAF, "As I pull up, it's a motorcycle cop sitting in the cold grass with two stray, or what appears to be stray dogs, just sitting there petting them."
The officer just wanted to keep them warm and let them know that they would be safe, and help was on the way.  He would not leave their side until that help actually got there, and the pups were brought to safety.
"It's over and above for anyone," she said. "It's cold. Most people wouldn't look twice at some dogs running around," said Debbie.
It turns out the the two dogs actually were lost.  They had escaped from their yard, and their humans had no clue where they were.
The two dogs were brought to the KC Pet Project, where not long after, their humans showed up to see if someone maybe brought their dogs to that shelter.  As soon as Austin and Ashley Mozingo saw them there, there's no way they could have been happier.
"I think that's an awesome story," Austin said. "It's good to know there are still police officers out there who still enjoy helping out the community, especially in helping out such sweet dogs."