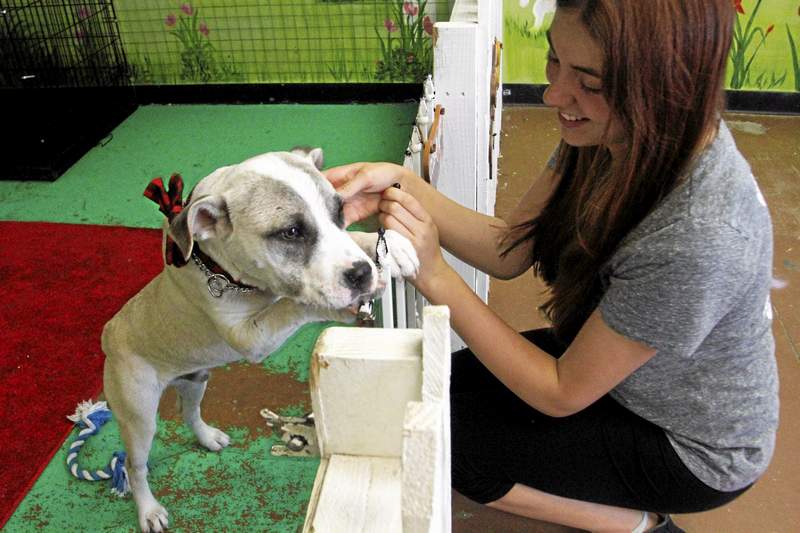 Kurtis, a pit bull mix who has come back from the very brink of death itself, is now the newest member of the Dorich family. They have promised to provide a loving forever home for him in Anthem, Arizona.
Yes, Kurtis is one lucky dog, but just a short time ago, this day almost didn't come for him.
Back in January, Lisa Price, executive director of Priceless Pets in Chino Hills, California was faced with a difficult decision that she is stuck having to make far more often than she would care to.  While on the phone with veterinarians, she made the determination that ultimately lead to this very happy ending.
"The veterinarian told me 'it was bad' and it would probably be expensive," Price said about the four-month-old pit bull they named Kurtis.  "I knew we couldn't afford the treatment and I had to consider euthanasia, but I didn't want to.  He was just so bad off.  His face was bleeding and full of scabs.  He was dehydrated and had mange, a staph infection and E. coli."
The vet on duty at the Western University of Health Sciences whom she was on the phone with, could sense the hesitation and indecision in Price's voice.  He offered the option of giving things 24 hours to make a decision.
"That's what I did," said Price.  "Kurtis had already fought so hard to live, you just got the sense he was a fighter and wanted to pull through."
Kurtis was being brought to the San Bernardino City Shelter by someone, and then he was taken by the Priceless Pet Rescue volunteers, who got him to immediate medical care.  They then started a social media fundraising blitz through Pitbullsofinstagram.  In just two days, the $4,000 needed for his medical care and more than 50 adoption requests were received from not just all over the country, but all over the world.
Even though they had achieved the goal of raising the money, Kurtis was not yet through the worst so to speak.  There was a great deal of very intensive care and treatment, which often required complete isolation.
Kurtis' foster father, who was taking care of him in isolation for a while was amazed at how much strength of spirit this little dog had.
"I even had to hold him up to pee," he said.  "I kept thinking to myself, 'how many times can this dog go through this?'  But Kurtis just kept holding on.  This dog really wanted to live."
Kurtis proved once again just how resilient of a dog he was, and made a full recovery.
He made is first public, available for adoption debut at The Orphanage.  This is Priceless Pet Rescue's open-to-the-public facility.  There were over 100 of Kurtis' fans present for the event.
This is where John and Donna Dorich and Kurtis first met.
"I had first seen him on Istagram, then started following John (Price) to get updates," said Donna.  "Dave didn't want to look at any more videos of sad stories, but I said, 'you have got to see this dog.'"
Kurtis is now safely at home with John and Donna for what will be a happy, healthy and loving forever home with a forever family, and couldn't be happier about it.