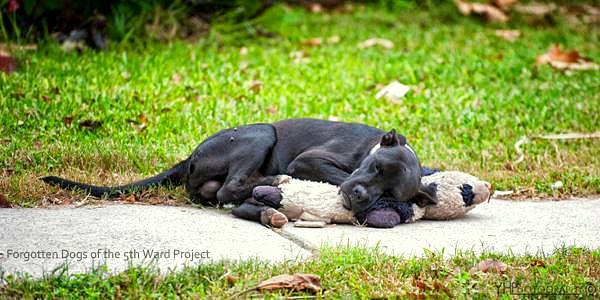 Yvette Holzbach and volunteers with her rescue group, Forgotten Dogs of the 5th Ward, feed the stray dogs of Houston – sometimes up to 50 in one go.  On a recent visit, she came across a bittersweet scene:  a stray dog snuggling up with a tatty stuffed animal.  Now she's on a mission to find him again and get him the help he needs.
She posted the story on her Facebook page, which she knew would draw some heat:
This dog was posted on my personal page and it sparked a lot of debate. I know that one of the first things someone is going to comment is "why did we not pick the dog up?" On one feeding route we can feed up to 50 stray dogs. Of those 50 dogs we are lucky if we are able to save one because the sad truth is, there are not enough foster homes to place these dogs into. This dog is in relatively good condition and sadly, when people see a dog in this shape they are less likely to step up to foster. So what we do is mostly post the dogs that are in worse shape and need immediate medical attention.
This dog, without a doubt, depicts the plight of the dogs in our city. A solution needs to be found and the best way that any of you can begin to help is by fostering. We are in desperate need of dedicated fosters so we can get dogs like this off the street. No dog should have to live like this. If there is anyone that does not quite understand what we are faced with we welcome you to do a ride along with us. You will be astounded at how many homeless dogs there are.
It is the hardest thing in the world for us to leave dogs like his behind so please don't judge us. We are a small group of volunteers who are just trying to do the very best we can with what we have. Please help us by fostering/donating or volunteering. There is no doubt…..fostering saves lives. Nothing would make us happier than to be out in the field and know that if we could post any dog and know that a foster would step up.
Then she shared the story on 5th Ward's Facebook page, and has been keeping fans up to date with what's been going on:
Today I went out to look for the dog with the teddy. I went to the exact place that we saw him and he was not there. There was an elderly gentleman sitting across the road and I struck up a conversation with him. He had a feeling that the dog belonged to the 89 year old man across the way. He said he sees a dog like that occasionally and thinks that he just lets the dog out to wander. He also mentioned that the man has a number of other dogs in his back yard as he tends to want to save every stray he sees. (He is a good man).
He thinks that the elderly gentleman may actually appreciate help with the dogs since he is so elderly and is finding it hard to care for the dogs himself. Unfortunately the gentleman was not home so I will go back and find out if the dog does indeed belong to him. If he does and he is willing to give the dog up I would very much like all those that have offered to foster him, to fill out an application.
In essence he is a street dog because he is allowed to wander the streets and stands just as much chance of being run over, picked up by animal control or stolen. He will just end up straying from there and become one of those dogs we find in bad shape in a couple of months' time. I will keep everyone updated. If that dog is owned, he has done a good job feeding him since he is not underweight, he just needs to keep him enclosed and let me know if he needs help. It may not be the dog we are talking about but I will find out.
In the meantime….. the gentleman I did get to speak to has two mangy puppies in his yard that he desperately needs to find homes for. He said he has no idea how to treat the mange and that is why they look the way they do. So I am now sending out a plea for someone to foster these pups. They are adorable. Probably about 10 weeks old. They need treatment and need to live inside and be loved on like they deserve.
This man said he would never consider dumping them so they would stay with him if he couldn't find homes. But without treatment these dogs would not thrive. This is going to be a very big opportunity for us to educate a resident in the 5th Ward. That is one of our objectives. He has other dogs and we will ask him if we can help with fixing the dogs and vetting them. After speaking to him today, I think he is a man with a big heart but just doesn't have the means or know how when it comes to taking care of his dogs.
If you would like to foster one or both of them please fill out an application at www.forgottendogs.org. Thank you.
We will keep you updated as we find out more.